« Back
Pucci Suites Hotel
Via Romana 61, 50125 Florence, Italy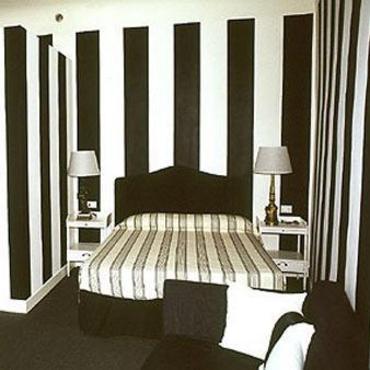 Pucci Suites Hotel - Description
The PucciRead more Suites Hotel is a three star Budget establishment has all the comforts such as : Non Smoking Rooms, Free Parking, Television, Air conditioning.It is situated at Via Romana 61 in the south-west section of Florence, at only 8 minutes walking distance from the center.This hotel offers high speed internet.This hotel was rated a 4 out of 5 from other travelers.This hotel offers a unique service : garden.You will be able to visit nearby the hotel: Strozzi Palace, Santa Maria Novella, The Baptistry, Belltower by Giotto, S.Maria del Fiore - Duomo, Basilica of Santa Croce, S. Croce, Medici Riccardi Palace, Hospital of Innocents, Basilica of San Lorenzo, Rucellai Palace.For those going to the airport, Peretola is 4 miles from the hotel which is about 13 minutes by car.Practical information:This hotel has a free parking.

The Pucci Suites Hotel is perfectly located for both business and leisure guests to Florence.The Pucci Suites Hotel boasts a convenient location with modern amenities in every guestroom and superb service.Room amenities include hair dryer, air conditioning, television.The basic amenities provided...
The Bed & Breakfast Pucci Suites is situated in a fantastic position only a few meters from Palazzo Pitti and the old, famous bridge Ponte Vecchio. All the major attractions of the town are just a short walk away. The B&B is situated in a typical Tuscan property with private garden and offers a q...
This elegant hotel is ideal for those want to explore this famous Italian city thanks to its great location. All monuments,shops and museums of Florence are within walking distance. Located near Palazzo Pitti and Ponte Vecchio the Pucci Suites is the right base to exlore this magical city. Each s...
The Pucci Suites are near Palazzo Pitti and Ponte Vecchio, with all monuments, museums and most exclusive shops of Florence no more than ten minutes' walk away. The Pucci suites with their private garden looking onto Boboli Gardens are perfect for those seeking the peace and quiet of a natural, g...
Read more on the website
Pucci Suites Hotel type(s): Budget
Pucci Suites Hotel facilities and services
Parking:
Free Parking(find others hotels with Parking in Florence)
Internet Access:
Internet Access(find others hotels with Internet Access in Florence)
General
Minibar
Shower
Television
Garden
Business services
Pets allowed
Heating
Baggage Storage
Air conditioning
Non Smoking Rooms
Cable television
Services
Hairdryer
Kitchenette
Fully equipped business center
Customer reviews
Martin
+ location of the apartment, the free parking and the size and quality of the rooms.
-
Traveler's rating :
Anthony Angel
The two suites we hired were truly magnificent, spacious, clean, quit and "homely"
Traveler's rating :
Thierry
+ Trés bel hotel. Bien situé. Parking trés difficile d'accés....
-
Traveler's rating :
Kaushik Shah
Very helpful staff and good,quiet location an easy 15 min walk and you are on the Ponte Veicho.Parking space was provided but a huge challange to access.Rooms were spacious and very clean and ours had frescoed cillings which made it extra special.recommended without reservation.
Traveler's rating :
Anonymous
+ Easy walking distance to the centro storico. H
- Parking access is through a very narrow gate and is only useable by small cars.
Traveler's rating :
David
+ Spacious, quiet (free from traffic noise that is horrendous) with easy walking access to all the main areas of interest.
- Breakfast room is a bit small with a limited selection of food (coffee, tea,Read more toast, cakes, cornflakes and yogurt only).Hide
Traveler's rating :
Anonymous
+ Good suite for a family with kids, wakable distance to pitti palace, Uffizzi gallery and pontevichie bridge, which are a must to see in florence. however it is quite far from from station and other attractions.Read more overall I would rate at 3.5/5.
- Hide
Traveler's rating :
LP
Excellent location (bus stop at 10 mt from the hotel), large and quiet room.
Traveler's rating :
Magali Guyot
I find this suite very amazing for the price. Nice breakfast, free parking (but very small, don't go there with a big car),10 minuts by foot from the monuments, friendly staff, big appartment. But thereRead more is only one bike to rent... I really enjoyed my stay in Florence, and in this suite.Hide
Traveler's rating :
Nikolaos
+ the rooms were comfortable, the staff of the suites were plaisant and explanatory when it was needed and the location is perfect because it is very close to the center and we didn't need any transportation.
-Read more Hide
Traveler's rating :
Activities nearby
Street

Library

leisure

Market and shopping area

739 yd

Quelle Tre:

736 yd

Aprosio & Co:

742 yd

Angela Caputi:

Monument

559 yd

Palazzo Pitti:

574 yd

Palazzo Pitti:

Religious site

580 yd

Santa Maria del Carmine Church:

544 yd

Chiesa Santo Spirito:

580 yd

Brancacci Chapel:

492 yd

Chiesa di Santo Spirito:

617 yd

Santa Maria della Carmine:

Park and square or garden

440 yd

Giardino di Boboli:

129 yd

Giardino Torrigiani:

516 yd

Boboli Garden:

nightlife

486 yd

Pop Café:

878 yd

Le Volpi E L'Uva:

restaurant

723 yd

Napo Leone:

737 yd

Il Magazzino:

650 yd

Trattoria del Carmine:

513 yd

Ristorante Ricchi:

756 yd

Olio & Convivium:

814 yd

Gelateria La Carraia:

803 yd

Il Guscio:

744 yd

Il Santo Bevitore:

512 yd

Botteghina:

487 yd

Enoteca Gambi Romano:

Museum

574 yd

Galleria Palatina:

313 yd

Museum San Sebastiano Firenze :