« Back
Days Inn Hotel Fleet
Welcome Break Service Area, M3 Motorway, Hartley Wintney, GU51 1AA ,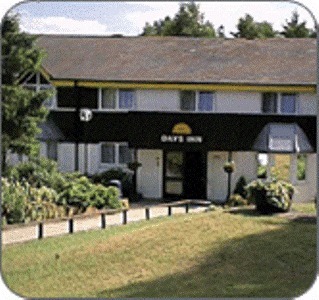 Days Inn Hotel Fleet - Description
Days Inn Hotel Fleet. Hotel "Days Inn Hotel Fleet" has obtained 2 stars. This hotel is an ideal pied-a-terre from which you can discover Fleet. A total of 58 bedrooms is featured. The bedrooms are roomy and elegant. Dinner can be enjoyed in the residence as there is an onsite restaurant. The continental breakfast is included in the price. Internet access is available free of charge.

Close to Windsor Castle and Legoland, with Thorpe Park and Chessington within easy reach, this modern building offers smart, spacious bedrooms and free Wi-Fi.
Read more on the website
Days Inn Hotel Fleet type(s): Budget
This hotel belongs to: Days Inn™
Days Inn Hotel Fleet facilities and services
Parking:
Pay Parking , Free Parking(find others hotels with Parking in null)
Dog / Cat friendly:
Pets Welcomed(find others hotels with Dog / Cat friendly in null)
Internet Access:
Internet Access , Wireless internet access(find others hotels with Internet Access in null)
General
Continental Breakfast
Disabled rooms
Non smoking
Front Desk 24hr
Heating
Newspapers
Non Smoking Rooms
Restaurant
Wheelchair accessible
On-site parking
Services
Meeting amenities
Fax / Photocopying
Customer reviews
John
+ Local to work and available for all employees to live together
- Noise from Motorway traffic
Traveler's rating :
Mukesh
+ Very pleasent staff
- shower worked well, but if I wanted to switch to tap, that did not work
Traveler's rating :
Ilan
+ 1) Rates.
- 1) Remote control didn't work from remote (bed). Replacing batteries
Traveler's rating :
Anonymous
+
- The food at the service station
Traveler's rating :
Colin
+ Biscuits and hot chocholate
-
Traveler's rating :
Lesley
+
- no bar or proper dining facilities
Traveler's rating :
Nevena
+ Reviews from previous guests scared me, I thought we would hate the hotel, but fortunately,, we totally loved it! The stuff was friendly, room very clean, comfortable and spacious...bed was very comfortable..roomRead more smelled nice..bathroom was completely ok..water was just right - not too hot, not too cold..all I can say is that we would definitely come here again.
- We had a bit of trouble finding the hotel, but we managed somehow, cos we called them and receptionist kindly explained.Hide
Traveler's rating :
Pui
+ Nice staff and fair price
- Bathroom isnt so clean
Traveler's rating :
Derek
+ good location
-
Traveler's rating :
Anonymous
+ Easy check in. Rooms warm and comfortable
- Lack of proper restaurant on the site ie pub:restaurant etc. Lack of a proper meal at the end of a journey
Traveler's rating :
Activities nearby
Theatre and opera

Golf and other sports

4.8 mi

Pine Ridge Golf Centre:

Hospital

5.2 mi

Frimley Park Hospital:

4.9 mi

BUPA Clare Park Hospital:

Railroad station

4.1 mi

Sandhurst Railway Station:

1.1 mi

Fleet Railway Station:

4.7 mi

Hook Railway Station:

5.1 mi

Crowthorne Railway Station:

4.2 mi

Blackwater Railway Station:

2.3 mi

Winchfield Railway Station:

Stadium

4.8 mi

Aldershot Military Stadium:

Airport

2 mi

Blackbushe Airport:

3.7 mi

Farnborough:

Spa and swimming pools

5.2 mi

Aldershot Garrison Sports Centre:

5.3 mi

Arena Fitness and Leisure Centre:

4.3 mi

Farnborough Recreation Centre:

3 mi

The Yateley Centre:

4.6 mi

Aldershot Lido and Indoor Pool:

2.8 mi

Virgin Active - Farnborough:

1.3 mi

Hart Leisure Centre:

Monument

4.4 mi

Caesar's Camp (Hampshire):

Library

4.7 mi

Odiham Library:

3 mi

Yateley Library: