« Back
Crespo Hotel
calle larga no 793 luis cordero, Cuenca, Ecuador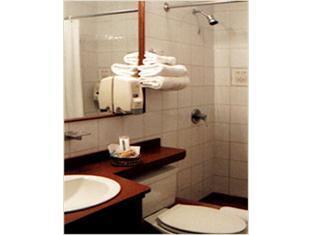 Crespo Hotel - Description
7 minutes byRead more car distance from the center, this hotel is located at calle larga no 793 luis cordero, in the south-west section of Cuenca, which is ideal to discover the city.The Crespo Hotel has all the services one would expect of a three star hotel in Cuenca: Restaurant, Room Service, Bar, Non Smoking Rooms, Television. This establishment is more of a Luxury hotel .

Stop at Crespo Hotel to discover the wonders of Cuenca. Offering a variety of facilities and services, the hotel provides all you need for a good night's sleep. All the necessary facilities, including bar/pub, restaurant, car park, tours, room service, are at hand. Satellite/cable TV, separate sh...
The Crespo Hotel is located in Cuenca making it one of the best hotels to stay at while in town. The Crespo Hotel boasts a convenient location with modern amenities in every guestroom and superb service. Modern comfort and convenience are seamlessly combined to ensure the guests' satisfaction. To...
Crespo Hotel type(s): Luxury
Crespo Hotel facilities and services
General
Minibar
Shower
Bathtub
Television
Bath/shower combined
Non Smoking Rooms
Cable television
Restaurant
Bar
Services
Airport Connection
Room Service
Activities nearby
Spa and swimming pools

UNESCO World Heritage site

87.2 mi

Sangay National Park:

46.3 mi

Historic Centre of Santa Ana de los Ríos de Cuenca:

Casino

78.4 mi

Unipark Hotel & Unicasino:

82.2 mi

Hilton Hotel & Casino Colon Guayaquil:

78.4 mi

Oro Verde Hotel & Casino Guayaquil:

77.8 mi

Ramada Guayaquil Hotel & Casino:

Golf and other sports

74.5 mi

Ocean Reef Dive Center :

Stadium

88.6 mi

Estadio Olímpico de Riobamba:

79.2 mi

Estadio Modelo Alberto Spencer:

77.9 mi

Estadio George Capwell:

682 yd

Estadio Alejandro Serrano Aguilar:

70.5 mi

Estadio 9 de Mayo:

80.5 mi

Monumental Banco Pichincha:

School and university

79.7 mi

Civil University Vicente Rocafuerte of Guayaquil:

1.7 mi

University of Azuay:

90.4 mi

State University of Bolívar, Guaranda:

83.3 mi

School of Technology of the Coast, Guayaquil:

80.8 mi

Catholic University of Santiago de Guayaquil: