« Back
The Waverley Hotel
9, Pedley Street, CW2 7AA Crewe, England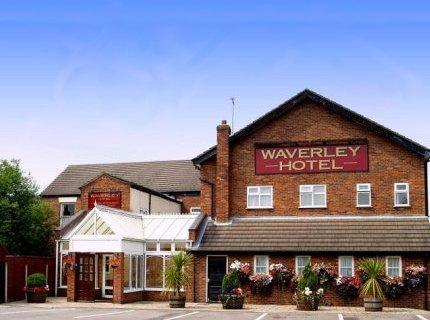 The Waverley Hotel - Description
The Waverley Hotel. "The Waverley Hotel" is perfect for visiting Crewe. Guests are presented the opportunity of taking part in soccer. The hotel has its own restaurant for your gustatory enjoyment. For a drink in the evening, you will find the bar most welcoming. Businessmen will appreciate the free Internet access.

With its central location, The Waverley Hotel is within easy reach of most tourist attractions and business addresses in Crewe.The The Waverley Hotel boasts a convenient location with modern amenities in every guestroom and superb service.In-room facilities include non smoking rooms, daily newspa...
The Waverley Hotel is family-run hotel just a 3-minute walk from Crewe Railway Station and a short drive from junctions 16 and 17 of the M6 motorway. The hotel is a convenient base for Crewe Football Club and local business parks.
Read more on the website
The Waverley Hotel type(s): Budget
The Waverley Hotel facilities and services
Parking:
Pay Parking , Free Parking(find others hotels with Parking in Crewe)
Dog / Cat friendly:
Pets Welcomed(find others hotels with Dog / Cat friendly in Crewe)
Internet Access:
Free WiFi , Internet Access , Wireless internet access(find others hotels with Internet Access in Crewe)
General
Garden
Disabled rooms
Fast Check-in/out
Non smoking
Non-refundable surcharge for pets
Heating
Gay Friendly
Fully Non Smoking
Newspapers
Non Smoking Rooms
Restaurant
Wheelchair accessible
Services
Laundry services
Breakfast Room Service
Meeting amenities
Packed Lunches
Fax / Photocopying
Activities nearby
Hospital

2.5 mi

Mid Cheshire Hospitals NHS Trust:

Industrial or rural zone

Library

3.7 mi

Nantwich Library:

8.1 mi

Kidsgrove Library:

Stadium

325 yd

Alexandra Stadium:

328 yd

Alexandra Stadium:

Railroad station

369 yd

Crewe Railway Station:

8 mi

Kidsgrove Railway Station:

8.1 mi

Wrenbury Railway Station:

4.5 mi

Sandbach Railway Station:

8.4 mi

Holmes Chapel Railway Station:

Monument

6.2 mi

Audley Castle Hill:

7.6 mi

Kinderton Hall:

8.2 mi

Little Moreton Hall:

Convention and exhibition center

1,064 yd

Business center of Premier Inn - Crewe Central:

Golf and other sports

5.6 mi

Stoke Albany Golf Club:

5.6 mi

Stoke Park Golf Club:

7.7 mi

Cambridgeshire Moat House Golf Course:

5.6 mi

Stoke Rochford Golf Club:

Spa and swimming pools

1,502 yd

Bannatyne's Health Club - Crewe:

7.9 mi

Winsford Sports Complex:

3.8 mi

Nantwich Swimming Pool:

783 yd

Total Fitness - Crewe:

1,144 yd

Crewe Swimming Pool:

2.2 mi

Alvaston Hall Country Club: