« Back
Port Augusta Inn
2082 Comox Avenue, CA V9M1P8 Comox, [British Columbia] Canada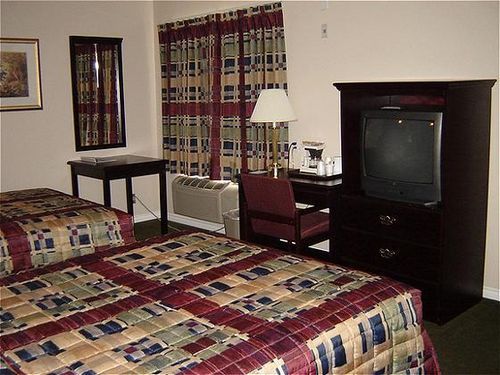 Port Augusta Inn - Description
Port Augusta Inn and Suites. "Port Augusta Inn and Suites" is a 3-star hotel. It is a perfect base from which to discover Comox. Guests can take a swim in the outdoor swimming pool. There's no time to get bored as the hotel offers the opportunity of participating in mini-golf as well as tennis, golf and skiing. There is no need to leave the hotel for dinner as there is an onsite restaurant. A lounge bar is open for you to have a drink before or after dinner. To add to your stay, there is a continental breakfast. For those who want to share their experiences online, there is Internet access available free of charge.

The Port Augusta Inn & Suites is located in the heart of Comox Valley, near all amenities. All of our deluxe guest rooms are newly renovated and offer all the comforts of home. Each guest room is equipped with queen or king size beds, in-room coffee/tea, cable TV with remote control, hair dryers,...
THE PORT AUGUSTA INN AND SUITES IS LOCATED IN THE HEART OFTHE COMOX VALLEY NEAR ALL AMENITIES. ALL OF OUR DELUXEGUEST ROOMS ARE NEWLY RENOVATED AND OFFER ALL THE COMFORTSOF HOME. EACH GUEST ROOM IS EQUIPPED WITH QUEEN OR KING SIZEBEDS IN ROOM COFFEE/TEA AND CABLE TV WITH REMOTE CONTROL HAIR D...
Offering views of the Strait of Georgia and the mountains, this hotel features a seasonal outdoor pool and daily continental breakfast. Balmoral Beach is just 5 minutes away. A coffee maker with free
Read more on the website
Port Augusta Inn type(s): Family ,Budget
This hotel belongs to: YX™
Port Augusta Inn facilities and services
Parking:
Free Parking(find others hotels with Parking in Comox)
Internet Access:
High speed Internet(find others hotels with Internet Access in Comox)
General
Meals for groups
Family Rooms
Meal plan available
Dataport
Non smoking
Pets allowed
Swimming pool
Activities
Near Golf Course
Tennis Court
Sport facilities
Activities nearby
Convention and exhibition center

2.1 mi

Business center of Kingfisher Oceanside Resort & Spa:

Mountain

Other maritime landscape

3.6 mi

Willemar Creek:

1.8 mi

Willemar Bluff:

2.7 mi

Tsolum River:

3.3 mi

Puntledge River:

2.1 mi

Courtenay River:

Golf and other sports

1,186 yd

Comox Golf Club:

10.1 mi

Mount Washington:

8.8 mi

Delahunt Golf Country Club:

2.7 mi

Crown Isle Golf Country Club:

Lake

4.4 mi

Maple Lake:

6.9 mi

Allen Lake:

Harbor and marina

2.6 mi

Courtenay Slough Marina:

1.2 mi

Comox:

1,058 yd

Comox Municipal Marina:

1,058 yd

Blackfin Pub At The Marina:

924 yd

Comox Bay Marina:

1,151 yd

Comox Valley Harbour Authority/\"Comox Fisherman's Wharf\":

988 yd

Comox Marina:

Beach and coastal area

4.5 mi

Little River Bay:

1.8 mi

Comox Spit :

4.1 mi

Kye Bay:

Park and square or garden

4 mi

Kin Beach Provincial Park:

Spa and swimming pools

3.7 mi

Comox Valley Sports Centre:

2.7 mi

Comox Valley Aquatic Centre: