« Back
Clarion Hotel and Suites Conference Center
900 E DUBLIN GRANVILLE RO, 43229 ,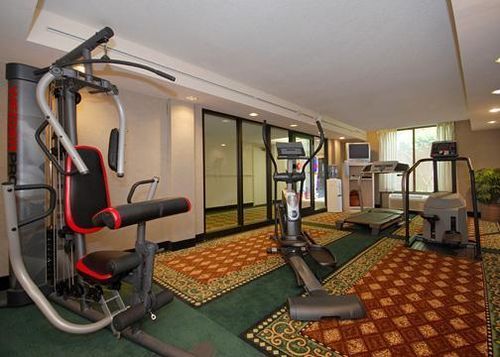 Clarion Hotel and Suites Conference Center - Description
Clarion Hotel Columbus. "Clarion Hotel Columbus" has obtained 2 stars. It is located in Columbus. There is a total of 174 rooms to choose from. Hot weather is kept outside thanks to the air conditioning. "Clarion Hotel Columbus" offers its visitors the luxury of a private inner courtyard. You can take a swim since this accommodation offers the luxury of a covered swimming pool. At this residence, you can participate in pool. Furthermore, there is a pool table and a gymnasium where visitors have the option to get in some training on their own. After a busy day, visitors have the option to relax in the onsite spa or jacuzzi. Dinner can be served without leaving the comfort of the accommodation as there is an onsite restaurant. For a drink before or after dinner, you will find the bar most welcoming. To add to your stay, breakfast is included in the price. Staying in touch with the rest of the world is made possible with free Internet access.

Being an ideal place in the city of Columbus, this hotel offers a warm welcome, pleasant ambience and contemporary service to make your stay a memorable one. Location Conveniently located near historic Worthington and downtown Columbus, this splendid hotel is just minutes from Worthington Square...
The hotel is conveniently located near historic Worthington and 10 minutes from downtown Columbus and the Convention Center. This Columbus hotel is minutes from attractions like the German Amphathre, Polaris Fashion Place, Easton Mall,Wyandot Lake amusement park, the Columbus Zoo and Aquarium, An...
The Ramada Plaza Hotel and Conference Center is located in Columbus, Ohio, three miles from the Ohio State Fair Grounds, the Ohio Exposition Center and the Ohio Historical Society. The Wyandot Lake amusement park and Columbus Zoo and Aquarium are within 15 miles. Downtown Columbus is eight miles...
Clarion Hotel and Suites Conference Center type(s): Family
This hotel belongs to: CC™
Clarion Hotel and Suites Conference Center facilities and services
Parking:
Parking , Free Parking(find others hotels with Parking in Columbus)
Internet Access:
High speed Internet , Internet Access(find others hotels with Internet Access in Columbus)
General
Telephone
Fax
Lift/elevator
Meals for groups
Continental Breakfast
Conference Facilities
Family Rooms
Accessible Facilities
Ice Machine
Truck Parking
Meal plan available
Breakfast served in restaurant
Activities
Whirlpool
Massage
Canoeing
Sport facilities
Gym / Fitness center
Indoor Pool
Jacuzzi
Services
Ironing Facilities
Microwave
Banqueting service
Laundry services
Local free calls
Meeting rooms
Meeting center
Car Rentals
Fax / Photocopying
Business Center
Activities nearby
Stadium

5.5 mi

Jesse Owens Memorial Stadium:

5.4 mi

Columbus Crew Stadium:

5.7 mi

Bill Davis Stadium:

Market and shopping area

4.9 mi

Easton Town Center:

4 mi

Polaris Fashion Place:

Spa and swimming pools

2 mi

C. David Howell Worthington Pools Complex:

3.7 mi

Westerville Community Center:

3.7 mi

Westerville Athletic Club:

149 yd

Columbus North Sports Club :

1.6 mi

Lash Lady, The:

2.2 mi

Bally's Scandinavian Holiday Spa:

1,522 yd

Greenhouse Aquatics:

5.5 mi

Mandarin Salon and Day Spa:

4.2 mi

McConnell Heart Health Center:

5 mi

Europa International Salon and Spa:

1.3 mi

YMCA North:

1.6 mi

The Worthington Community Center:

4.9 mi

Life Time Fitness - Columbus:

Golf and other sports

3.8 mi

Brookside Golf Country Club:

2.2 mi

York Golf Club:

3.1 mi

Central Ohio School of Diving :

3.6 mi

Worthington Hills Country Club:

3.8 mi

Brookside Golf Country Club:

3 mi

Minerva Lake Golf Course:

5.7 mi

Lakes Golf Country Club The:

144 yd

It's Dive Time, Inc. :

4 mi

Champions Golf Course:

Museum

1,042 yd

Ohio Railway Museum:

1.4 mi

Worthington Historical Society:

5.6 mi

Jack Nicklaus Museum: