« Back
Ramada Clemson
1310 Tiger Blvd., 29631 ,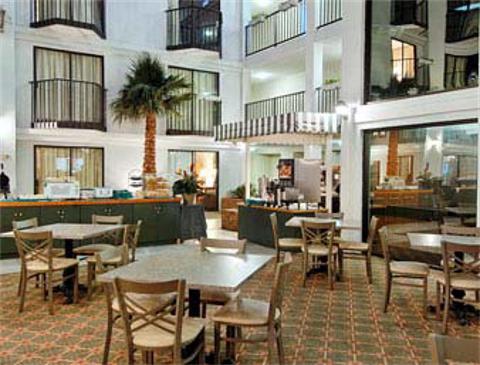 Ramada Clemson - Description
Located north-east, 11Read more minutes walking distance from the city center, this hotel at 1310 Tiger Blvd. is the ideal pied-à-terre to take advantage of all the wonders of Clemson, whether for a few days or for a longer stay.Of a Budget category, the Ramada Clemson has all the comforts such as : Restaurant, Free Parking.High speed internet is available in this hotel.Relax yourself in the hotel's indoor pool.This hotel offers a unique service : terrace.It is part of the hotel chain RA.Practical information:This hotel has a free parking.

Business district, Expressway
The Ramada of Clemson, SC is located at the intersection of Highway 76 & 123 and is the Clemson areas only full service hotel. The South Carolina Botanical Gardens and T. Ed Garrison Arena is a short drive from the Ramada's front door. The contemporary and comfortable accommodations of the Ramada...
Ramada Clemson type(s): Budget
This hotel belongs to: RA™
Ramada Clemson facilities and services
Parking:
Free Parking(find others hotels with Parking in null)
Internet Access:
High speed Internet(find others hotels with Internet Access in null)
General
Terrace
Conference Facilities
Ice Machine
Security
Truck Parking
Vending Services
Bus parking
Ironing board
Desk with lamp
Restaurant
Outdoor parking
Activities nearby
Museum

16.4 mi

Anderson County Museum:

7 mi

Lunney Museum:

Spa and swimming pools

16 mi

Sheppard Swim Center:

17.2 mi

Evergreen Day Spa:

14.6 mi

Pickens County Y.M.C.A.:

1,744 yd

Fike Recreation Center - Clemson University:

17 mi

Hudgens Swim Center:

Stadium

1,228 yd

Riggs Field:

1,483 yd

Fike Recreation Center:

1,743 yd

Frank Howard Field at Clemson Memorial Stadium:

1.2 mi

Doug Kingsmore Stadium:

1 mi

Littlejohn Coliseum:

Market and shopping area

Golf and other sports

5.2 mi

Woodhaven Golf Club:

10.9 mi

Keowee Key Golf Country Club:

17.2 mi

Southern Oaks Golf Course:

14.5 mi

Falcon S Lair Golf Course:

16 mi

Foxwood Hills Country Club:

16.5 mi

Cobb S Glen Country Club:

17.5 mi

Smithfields Country Club:

8.7 mi

Cross Creek Plantation:

16.3 mi

Anderson Country Club:

10.2 mi

Oconee Country Club:

17 mi

Cobbs Glen Golf:

17.7 mi

Keowee Vineyards Golf:

18.7 mi

Saluda Valley Country Club:

980 yd

Walker Golf Course The:

10.6 mi

Blue Ridge Golf Center:

1.8 mi

Walker Course At Clemson University:

16.8 mi

Stone Creek Cove Golf Course: