« Back
The Varsity Hotel & Spa
Thompson's Lane, CB5 8AQ Cambridge, England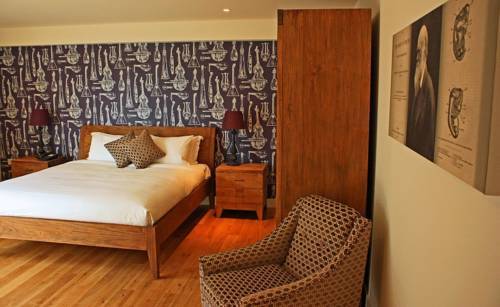 The Varsity Hotel & Spa - Description
The Varsity Hotel. "The Varsity Hotel" has 4 stars. Situated downtown, it is an excellent base point from which visitors can discover Cambridge. This accommodation boasts a total of 48 rooms. Every room in the hotel has been described as being modern. Thanks to the relieving air conditioning, you will always find a comfortable room temperature inside. Some bedrooms offer the advantage of a balcony. At this hotel, you can participate in fishing and practice tennis and golf. The sports facilities include a gym, boats and a running track as well as a bike rental service. After all your busy activities, a visit to the spa will help you feel reborn. Cleanse yourself in the whirlpool bath or the Turkish bath and give your health a boost with the sauna. Treat yourself to, for instance, a relaxing massage. The hotel includes a restaurant that will serve you dinner and breakfast, which is included in your stay. You can end a busy day at the lounge bar. If you like to keep track of business, there is free of charge Internet access available.

The The Varsity Hotel & Spa is perfectly located for both business and leisure guests to Cambridge.All hotel's guestrooms have all the conveniences expected in a hotel in its class to suit guests' utmost comforts.Each guestroom has non smoking rooms, bathrobes, daily newspaper, desk, hair dryer, ...
Situated in the centre of Cambridge, The Varsity Hotel and Spa offers free Wi-Fi, individual modern rooms, and impressive rooftop views. Each room is named after a different Oxbridge college, and features an LCD TV, DVD library and iPod dock.
Read more on the website
The Varsity Hotel & Spa type(s): Luxury
The Varsity Hotel & Spa facilities and services
Internet Access:
Wireless internet access(find others hotels with Internet Access in Cambridge)
General
Terrace
Disabled rooms
Elevator
Safe
Non smoking
Front Desk 24hr
Non-refundable surcharge for pets
Fully Non Smoking
Newspapers
Restaurant
Bar
Services
Laundry services
Dry Cleaning
Fax / Photocopying
Activities nearby
Spa and swimming pools

2.5 mi

Impington Sports Centre:

1.3 mi

Serenity Day Spa:

School and university

570 yd

University of Cambridge:

1,348 yd

Anglia Ruskin University:

Stadium

2.2 mi

Bridge Road:

820 yd

City Ground:

1.5 mi

The R Costings Abbey Stadium:

Hospital

2.6 mi

Addenbrookes NHS Trust:

2.6 mi

Addenbrookes Hospital:

2.4 mi

BUPA Cambridge Lea Hospital:

Railroad station

2.1 mi

Barnwell Junction Station:

Library

1.1 mi

Arbury Court Library:

1,706 yd

Tyndale House :

756 yd

Central Science Library:

Convention and exhibition center

1,513 yd

The Moller Centre:

1,166 yd

Business center of West Road Concert Hall:

1.8 mi

Homerton College Conference Centre:

Golf and other sports

1,353 yd

Cambridge Moat House Golf Club:

2.6 mi

Gog Magog Golf Club: