« Back
The Grange Hotel
Barton Road, IP31 3PQ Bury Saint Edmunds, England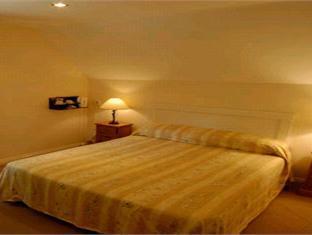 The Grange Hotel - Description
The Grange Hotel. "The Grange Hotel" is a hotel that has acquired 3 stars. The hotel is situated in Bury Saint Edmunds. The interior decoration of the accommodation can best be described as warm. This hotel has 18 bedrooms in total. Enjoy some fresh air in the intimacy of the garden. You are presented the option of participating in soccer. After a long day, the onsite spa will help you feel refreshed. You have the option to treat yourself to a relaxing massage. The accommodation includes a restaurant for your gustatory enjoyment. End the day with a drink at the hotel's lounge bar. Internet access is offered at no extra charge.

The The Grange Hotel is located in Bury Saint Edmunds making it one of the best hotels to stay at while in town.The The Grange Hotel boasts a convenient location with modern amenities in every guestroom and superb service.All of the guestrooms are replete with air conditioning, desk, hair dryer, ...
The Grange Hotel, an attractive Tudor style country house hotel, lies in Thurston in the heart of Suffolk. The hotel is set in its own secluded gardens amidst open countryside, offering a warm, friendly, relaxed atmosphere.
Read more on the website
The Grange Hotel facilities and services
Parking:
Pay Parking , Free Parking(find others hotels with Parking in Bury Saint Edmunds)
Dog / Cat friendly:
Pets Welcomed(find others hotels with Dog / Cat friendly in Bury Saint Edmunds)
Internet Access:
Free WiFi , Internet Access , Wireless internet access(find others hotels with Internet Access in Bury Saint Edmunds)
General
Shower
Bathtub
Television
Balcony
Garden
Business services
Ironing board
Disabled rooms
Pets allowed
Non-refundable surcharge for pets
Air conditioning
Cable television
Services
Tea and Coffee facilities
Hairdryer
Desk
Meeting amenities
Fully equipped business center
Fax / Photocopying
Customer reviews
Mollie
+ The view of the garden from one of the rooms was lovely, the bathroom was clean and smart, the breakfast was very good.
-
Traveler's rating :
Aisling
+ polite staff
- Not enough towels in double room. No paper in moring as requested.
Traveler's rating :
Wayne
+ Quite
- the room was cold and had to request a portable heater to warm it up
Traveler's rating :
Clive
+ The room abd the breakfast
-
Traveler's rating :
Anonymous
+ Didnt have much interaction but staff were pleasant and helpful and cabin clean and tidy.
-
Traveler's rating :
Sean
+ Nice and peaceful
-
Traveler's rating :
Anonymous
+ Staff was very friendly.
- No
Traveler's rating :
Denise
+ The staff and the food was very good
- The bed and the size of the room for the price. Paying £100 for a double room in the middle of nowhere I would expect a decent size bed. Not a 4 foot double bed.Read more It was the most uncomfortable bed as well. The room was an attic room with very little window and the most horrible sisal carpeting which was like having the soles of your feet grated everytime you walked on it. However the room was clean and the ensuite more than expected.Hide
Traveler's rating :
Anonymous
+ Relaxed friendly atmosphere & lovely surroundings
-
Traveler's rating :
Carol
+ The hotel was far enough from a main road to have the solitude that we required
-
Traveler's rating :
Activities nearby
Hospital

4.4 mi

West Suffolk Hospitals NHS Trust:

Spa and swimming pools

4.8 mi

Clarice House:

4.2 mi

SK Clinic & Spa:

9 mi

Mid Suffolk Leisure Centre:

3.8 mi

Suffolk Golf Hotel & Spa:

4.4 mi

Bury St. Edmunds Leisure Centre:

4.8 mi

Clarice House - Bury St Edmunds:

Railroad station

3.8 mi

Bury St Edmunds Railway Station:

1,527 yd

Thurston Railway Station:

Monument

8 mi

Great Finborough Devils Hill:

9.4 mi

Combs:

8.7 mi

Finningham Cromwells Plantation:

4.9 mi

Great Ashfield Castle Hill:

4.9 mi

Black Hill-Suffolk:

2 mi

Pakenham Cursus:

7.3 mi

Haughley Castle:

10.5 mi

Thetford Castle Hill:

4.2 mi

Bury St Edmunds:

4.1 mi

Hunston Mill Hill:

Golf and other sports

8.6 mi

Flempton Golf Club:

4.2 mi

Bury Saint Edmunds Golf Club:

9.6 mi

Stowmarket Golf Club:

Theatre and opera