« Back
Promenade Hotel
Marcelo T. De Alvear 444, 1058 Buenos Aires, Argentina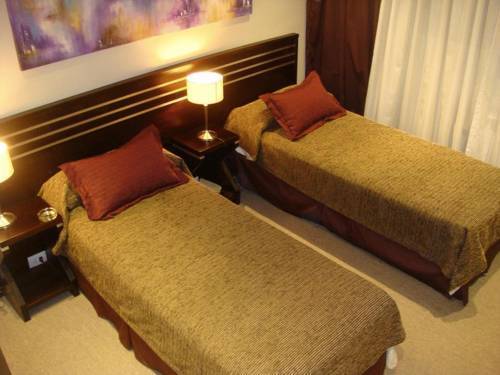 Promenade Hotel - Description
Promenade Hotel. "Promenade Hotel" is a 3-star hotel. It is an excellent place to stay when discovering Buenos Aires as it is conveniently situated in its downtown district. The Art Déco hotel consists of 61 bedrooms in total. The soundproof bedrooms enable you to relax without the risk of being disturbed. Thanks to the air conditioning, it is never too hot inside. Dinner can be served at the onsite restaurant. Before or after dinner, you can enjoy a drink at the lounge bar. After a good night's sleep, you have the option to have an American breakfast, which is included in your stay. Additional amenities include an airport shuttle and free of charge Internet access.

The Promenade Hotel is perfectly located for both business and leisure guests to Buenos Aires.All of the hotel's 87 guestrooms are equipped with standard in-room amenities to ensure the maximum comfort for its guests.Room amenities include air conditioning, television, separate shower and tub, in...
The Promenade Hotel Buenos Aires lies only 30 km (18 miles) away from the airport. The hotel has a total of 87 well-appointed rooms designed with the guests' comfort in mind. With elegant facilities and hospitality, guests at this hotel will surely have an impressive stay. For your reservation at...
Promenade Hotel is located in central Buenos Aires, a short walk from Calle Florida (Florida street) and San Telmo. It features air-conditioned rooms with TV and offers free Wi-Fi. All guest rooms ha
Read more on the website
Promenade Hotel facilities and services
Internet Access:
Free WiFi , Internet Access(find others hotels with Internet Access in Buenos Aires)
General
Shower
Bathtub
Television
Safe
Bath/shower combined
Air conditioning
Cable television
Activities nearby
Spa and swimming pools

801 yd

Asociación Cristiana de Jóvenes:

1,633 yd

Club de Gimnasia & Esgrima - Sede Ricardo Camilo Aldao:

Landmark

Building and administration

439 yd

Tourist Information:

313 yd

ORGANISMO OFICIAL ITALIANO PARA EL TURISMO:

1,638 yd

Oficina Española de Turismo:

Monument

1,485 yd

Casa de Gobierno:

School and university

490 yd

Instituto Universitario Nacional del Arte:

303 yd

CEMA University:

1.3 mi

ISALUD University:

1,603 yd

Interamerican Open University:

1.5 mi

Argentine Business University, Buenos Aires:

974 yd

Buenos Aires Institute of Technology:

1.1 mi

John F. Kennedy Argentine University:

1.5 mi

University of Cine:

1,486 yd

University of Buenos Aires:

1.4 mi

University Institute of Health Sciences:

1 mi

Argentine School of Business:

1.3 mi

Argentine Catholic University:

1.2 mi

University of Salvador:

1.1 mi

University of Argentine Social Museum:

1,000 yd

National University of Technology:

1,269 yd

University of Business and Social Sciences:

1.3 mi

Latin American Faculty of Social Sciences:

Museum

1.2 mi

Museo Participativo de Ciencias:

1.4 mi

National Museum of Fine Arts:

Theatre and opera

1,072 yd

Teatro Colón:

1,070 yd

Colón Theater:

1.1 mi

Buenos Aires Lírica:

Cemetery

1.3 mi

Recoleta Cemetery (Cementerio de la Recoleta):