« Back
Hotel Tanne
Esze T.1-3, 2092 Budakeszi, Hungary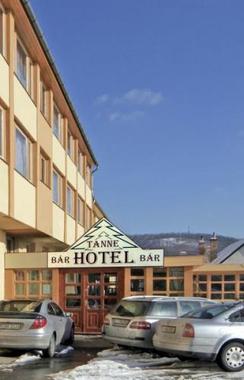 Hotel Tanne - Description
Hotel Tanne. "Hotel Tanne" has acquired 3 stars. It is an ideal base point from which visitors can explore Budakeszi. You also have the option to go and see the nearby city of Budapest. At this residence, you can participate in various activities, like parachuting and mini-golf. For visitors who fancy sports, the accommodation also offers tennis. This residence includes a restaurant.

The Hotel Tanne is located in Budakeszi making it one of the best hotels to stay at while in town. All hotel's guestrooms have all the conveniences expected in a hotel in its class to suit guests' utmost comforts. All of the guestrooms are replete with Non Smoking Rooms, Television , Shower, Sate...
The Hotel Tann can be found close to Budapest, in the charming town of Budakeszi, where you can enjoy clean air and wonderful woods in the surroundings.
Read more on the website
Hotel Tanne type(s): Family ,Beach ,Budget
Hotel Tanne facilities and services
Dog / Cat friendly:
Pets Welcomed(find others hotels with Dog / Cat friendly in Budakeszi)
Parking:
Pay Parking , Free Parking(find others hotels with Parking in Budakeszi)
General
Shower
Television
Family Rooms
Children welcome
Disabled rooms
Pets allowed
Front Desk 24hr
Heating
Baggage Storage
Non Smoking Rooms
Cable television
Wheelchair accessible
Activities
Games Rooms
Solarium
Playground
Snooker Table
Darts
Cycling
Walking
BBQ Available
Bowling
Tennis Court
Sport facilities
Horseback Riding
Sauna
Gym / Fitness center
Indoor Pool
Outdoor Pool
Turkish/Steam Bath
Services
Child Minding Services
Laundry services
Dry Cleaning
Hair & Beauty Salon
Ironing Services
Meeting amenities
Currency Exchange
Fully equipped business center
Packed Lunches
Car Rentals
Fax / Photocopying
Ticket Sales
Location
River
Beach
Downtown
Forest
Shopping mall
Museum District
Near Highway
Countryside
Near Airport
Park
Mountains
Outstanding views
Activities nearby
Theatre and opera

5.9 mi

Opera House:

5.9 mi

Magyar Állami Operaház:

Religious site

Monument

5.6 mi

Statue of Imre Nagy:

5.3 mi

Parliament:

5.6 mi

Gellert Statue:

Casino

5.6 mi

Tropicana Casino:

5.5 mi

Casino Las Vegas & Sofitel Atrium Budapest:

5.4 mi

Varkert Casino:

Building and administration

5.8 mi

Malta Idegenforgalmi Hivatal:

Landmark

4.8 mi

Fisherman's Bastion:

4.9 mi

Castle District:

Spa and swimming pools

5.3 mi

Danubius Health Spa Resort Margitsziget:

5.5 mi

Levendula Day Spa:

4.8 mi

Császár-Komjádi Uszoda:

Museum

5.8 mi

Post Office Museum:

5.4 mi

Imre Varga Collection:

5.9 mi

Museum of Fine Arts:

5.3 mi

Vasarely Museum:

Other landscape

5.3 mi

Margaret Island:

5.3 mi

Margit-sziget:

School and university

3 mi

Rendortiszti Foiskola:

4.5 mi

Physical Education and Sport Sciences University at Semmelweis:

2.6 mi

Moholy-Nagy University of Art and Design Budapest:

4.7 mi

Budapest Polytechnic:

5.5 mi

Central European University:

5.9 mi

Budapest College of Management:

Golf and other sports

4.3 mi

Moby-Dick Dive Center :

5.8 mi

Aquanaut Budapest :

4.8 mi

Nagy Kekseg Buvarbolt :