« Back
Isle of Capri - Blackhawk
401 Main St, 80422 ,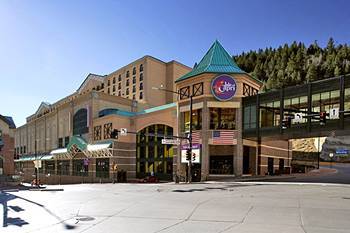 Isle of Capri - Blackhawk - Description
Isle Hotel Isle Tower. 3-star hotel "Isle Hotel Isle Tower" is an ideal pied-a-terre for exploring Black Hawk. This accommodation has 238 rooms in total. The air conditioning keeps the heat outside, always ensuring a pleasant room temperature. Participate in the various activities this accommodation offers, such as fishing or hunting. For visitors who appreciate sports, the accommodation also offers rafting, golf, snowshoeing, snowboarding, cross-country skiing, skiing, alpine skiing, kayaking, snowmobiling and horse riding. The sports facilities include a walking trail. The onsite restaurant serves a tasty dinner. For a drink after dinner, feel free to take a seat at the lounge bar. The residence also features an onsite casino. Staying in touch with the rest of the world is made possible with free Internet access.

The Isle of Capri Blackhawk in Black Hawk, Colo., boasts gaming action and tropical ambience amid the scenic Rocky Mountains. The property is four miles from the Roosevelt National Forest and seven miles from Clear Creek River Rafting. <br> Calypso's hosts buffet-style breakfasts, lunches a...
Isle of Capri - Blackhawk facilities and services
Activities nearby
Spa and swimming pools

4.4 mi

Clear Creek Recreation Center:

1.6 mi

Blissful Spirit Day Spa at the Hooper Homestead:

Museum

1.2 mi

Gilpin County Museum:

4 mi

Argo Gold Mill:

4.3 mi

Underhill Museum:

Casino

374 yd

Isle of Capri Casino & Hotel:

1,512 yd

Fortune Valley Hotel and Casino:

671 yd

Famous Bonanza:

565 yd

Lodge Casino at Black Hawk:

637 yd

Canyon Casino:

1,530 yd

Red Dolly Casino:

1.4 mi

Black Hawk Station Casino:

561 yd

Golden Gulch Casino:

665 yd

Bull Durham Saloon and Casino:

1.4 mi

Silver Hawk Saloon & Casino:

665 yd

Gilpin Hotel Casino:

680 yd

Doc Holliday Casino:

561 yd

Mardi Gras Casino:

680 yd

Fitzgeralds Black Hawk:

1.4 mi

Bullpen Casino:

1,517 yd

Winner's Haven Casino:

1.4 mi

Teller House Casino:

562 yd

Golden Gates Casino:

650 yd

Easy Street:

1.4 mi

Bullwhackers Casino:

650 yd

Wild Card Saloon & Casino:

561 yd

Lady Luck Casino & Hotel:

637 yd

Scarlet's Casino:

1.4 mi

Dan Cooper's Eureka! Casino:

574 yd

Ameristar Casino - Black Hawk: