« Back
Studentenhotel Hubertusallee
Delbrückstr. 24, 14193 Berlin, Germany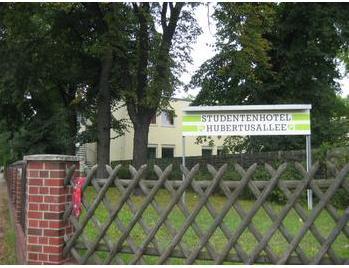 Studentenhotel Hubertusallee - Description
Studentenhotel Hubertusallee. "Studentenhotel Hubertusallee" is a hotel that has received 1 star. It is a perfect base from which visitors can discover Berlin.

The Studentenhotel Hubertusallee is perfectly located for both business and leisure guests to Berlin.All hotel's guestrooms have all the conveniences expected in a hotel in its class to suit guests' utmost comforts.Each guestroom features amenities such as daily newspaper, desk, shower, separate ...
This student hotel is located in the beautiful, green, leafy suburb of Grünewald, and offers excellent public transport connections to the centre of Berlin. Make the Studentenhotel Hubertusallee the ideal and practical base for your stay in Berlin.
Read more on the website
Studentenhotel Hubertusallee type(s): Budget
Studentenhotel Hubertusallee facilities and services
Parking:
Pay Parking(find others hotels with Parking in Berlin)
Internet Access:
Internet Access , Wireless internet access(find others hotels with Internet Access in Berlin)
General
Breakfast Buffet
Shower
Garden
Terrace
Fast Check-in/out
Safe
Front Desk 24hr
Heating
Baggage Storage
Newspapers
Services
Desk
Fully equipped business center
Tourism Desk
Fax / Photocopying
Ticket Sales
Room Service
Activities nearby
Stadium

1,724 yd

Steffi-Graf-Stadion:

1.4 mi

Mommsenstadion:

Landmark

Park and square or garden

Spa and swimming pools

1.4 mi

Stadtbad Wilmersdorf I:

1.3 mi

Aspria Spa & Sporting Club:

Museum

1.2 mi

Brücke Museum:

1.2 mi

Brücke Museum:

1.9 mi

Musées de Dahlem:

1.9 mi

Museen Dahlem:

Railroad station

2 mi

Heerstraße Bahnhof:

1,519 yd

Hohenzollerndamm Bahnhof:

1.3 mi

Berlin-Charlottenburg Bahnhof:

1.8 mi

Messe Nord / ICC (Witzleben) Bahnhof:

1.1 mi

Berlin-Westkreuz Bahnhof:

1.2 mi

Heidelberger Platz Bahnhof:

2 mi

Bundesplatz Bahnhof:

1.2 mi

Messe Süd (Eichkamp) Bahnhof:

1 mi

Berlin-Grunewald Bahnhof:

1.2 mi

Berlin-Halensee Bahnhof:

Golf and other sports

1.8 mi

aqua-nautic Berlin-Charlottenburg :

2 mi

unterwasserweltberlin :

1.9 mi

City-Diver Berlin :

1.8 mi

Sport- und Rettungstauchverein Berlin e.V. :

2 mi

Divexperience :

Building and administration

1.7 mi

Spanisches Fremdenverkehrsamt:

2.2 mi

Ambassade des Etats-Unis:

Market and shopping area

restaurant

2.2 mi

Good Friends:

2 mi

Marjellchen: