« Back
ABACUS Tierpark Hotel
Franz-Mett-Str. 3-9, 10319 Berlin, Germany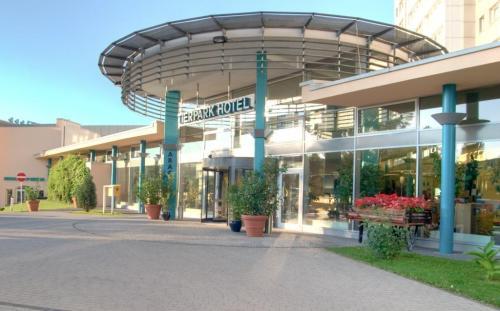 ABACUS Tierpark Hotel - Description
Abacus Tierpark Hotel. "Abacus Tierpark Hotel" has obtained 4 stars. The hotel is excellent for discovering Berlin. This hotel has a total of 278 rooms. Each room is modern. Start your day with a little stroll in the private inner courtyard or garden. There are several sporting activities available, such as aerobics, squash and tennis. The facilities also include a gym and a bicycle rental service. In the onsite spa, you can recharge your batteries with a massage. Cleanse yourself in the whirlpool bath or the real hamam and enjoy a visit to the sauna. Meanwhile, children are invited to the child care center. The onsite restaurant serves dinner and breakfast. For a drink after a long day, you can visit the lounge bar. For those who would like to share their experiences instantly, there is Internet access available.

Discover all that Berlin has to offer with Abacus Tierpark Hotel as a base. All 278 at this 4-star property offers well-furnished rooms and attentive service. Along with its convenient location in Berlin, the hotel also offers a wide range of services and facilities to the guests. The hotel creat...
The Abacus Tierpark Hotel is set opposite Berlin' Tierpark, the largest animal wildlife park in Europe. The city center is about three miles (5 km) away and 15 minutes by metro. Berlin Tegel Airport is 20 minutes and six miles (10 km)away. The underground takes guest straight to Berlin's main sho...
Franz-Mett-Strasse 3-9, Berlin, DE, 10319
The luxurious hotel ABACUS Tierpark is an elegant property in Berlin with excellently equipped guestrooms offering all comforts. Further on-site amenities include a friendly and professional service, a restaurant with winter garden and 12 air-conditioned, soundproof meeting rooms with daylight as...
This 4-star hotel is directly opposite Friedrichsfelde zoo in Berlin's Lichtenberg district. It has free parking, modern rooms and spa facilities. It is 700 metres from the Tierpark Underground Station.
Read more on the website
ABACUS Tierpark Hotel type(s): Family ,Luxury
This hotel belongs to: YX™
ABACUS Tierpark Hotel facilities and services
Parking:
Pay Parking , Parking , Free Parking(find others hotels with Parking in Berlin)
Dog / Cat friendly:
Pets Welcomed(find others hotels with Dog / Cat friendly in Berlin)
Internet Access:
Internet Access , Wireless internet access(find others hotels with Internet Access in Berlin)
General
Minibar
Shower
Bathtub
Television
Telephone
Fax
Radio
Satellite Television
Additional beds
Credit card accepted
Groups welcome
Lift/elevator
Activities
Solarium
Massage
Sport facilities
Sauna
Jacuzzi
Spa & Health Center
Services
Hairdryer
Ironing
Desk
City maps
Hairdresser
Child Minding Services
Laundry services
Pay Movies
Hair & Beauty Salon
Breakfast Room Service
Meeting amenities
Currency Exchange
Location
Downtown
Shopping mall
Park
Near Subway
Customer reviews
Sofiane Sroutta
I was in Berlin to run the marathon in 2007, this hostel was really good, I could rest and prepare myself to run. The different services are exelent!!!The room was great and nice!!! Ill come back the nextRead more year!!!!Hide
Traveler's rating :
Anonymous
+ Everything was fine.
-
Traveler's rating :
Peter
+ Goed ontbijt, nabijheid U-bahn station, gratis parkeren
-
Traveler's rating :
Prakash Nadaraja
It's a good hotel..Worth the money..and worth the stay..Dun mind going bck there again sometime...
Traveler's rating :
David Mulet Foster
The competence of the employeements is excellent, and the rooms is perfectly. The prices of minibar is very cheap. Although the hotel is to the outskirts this very communicated since there is a shutdownRead more of subway(u-bahn) to one hundred meters. The time to arrive at Alexanderplatz is of 15 minutes. The zone at night is very calm since this surrounded by parks and buildings of a level medium/high.Hide
Traveler's rating :
Kristina Kendall
The hotel and room were excellent. This place is a very short walk from a subway station, but it's a good 25 minute ride into the heart of the city. I knew that when I chose the place, though, so I wasRead more very satisfied.Hide
Traveler's rating :
RS
The rooms were nice and as I expected for the price. The restaurant was very nice although there should be a less expensive menu or partial buffet for those who just want a small portion to eat.
Traveler's rating :
KF
This hotel was very clean and comfortable. we stayed for 2 days in case. location is not close to center of Berlin,but we could take a subway in front of hotel.
Traveler's rating :
FG
Nice, clean and silence. The U-Bahn U5 is closed for works... and there is a bus.
Traveler's rating :
HF
room was extremely warm due to the long summer days and the warm temperature outside Maybe the windows can be opened during daytime
Traveler's rating :
Activities nearby
Spa and swimming pools

670 yd

Schwimmhalle Sewanstraße:

Park and square or garden

2.8 mi

Treptower Park:

2.3 mi

Treptower Park:

nightlife

2.4 mi

K17:

2.8 mi

Café 100 Wasser:

restaurant

2.4 mi

Sala Thai:

2.2 mi

Vöner:

2.7 mi

Schneeweiss:

Zoo

579 yd

Tierpark Berlin-Friedrichsfelde:

881 yd

Tierpark Berlin:

Market and shopping area

School and university

2.1 mi

Steinbeis University of Appied Sciences of Berlin:

965 yd

Berlin University of Applied Sciences:

1.1 mi

Catholic University of Applied Social Sciences Berlin:

Golf and other sports

800 yd

Dive - Company :

2.8 mi

Badeschiff:

Railroad station

2.7 mi

Treptower Park Bahnhof:

2.1 mi

Ostkreuz Bahnhof:

1.8 mi

Biesdorf Bahnhof:

1.1 mi

Berlin-Lichtenberg Bahnhof:

1.7 mi

Nöldnerplatz Bahnhof:

2.4 mi

Wuhlheide Bahnhof:

1.1 mi

Betriebsbahnhof Berlin-Rummelsburg Bahnhof:

1.7 mi

Berlin-Rummelsburg Bahnhof:

2.5 mi

Baumschulenweg Bahnhof:

1,156 yd

Friedrichsfelde Ost Bahnhof:

2.6 mi

Plänterwald Bahnhof:

1.5 mi

Berlin-Karlshorst Bahnhof:

2.2 mi

Berlin Frankfurter Allee Bahnhof:

2.2 mi

Springpfuhl Bahnhof: