« Back
Hilton Garden Inn Baton Rouge Airport
3330 Harding Boulevard, LA 70807 ,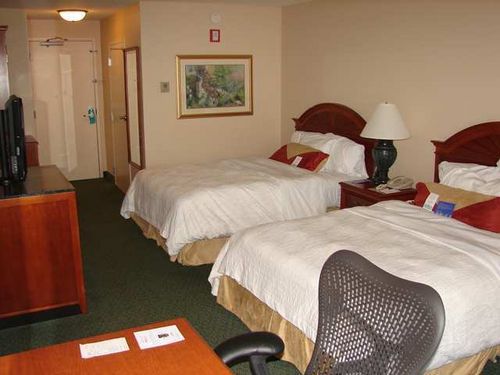 Hilton Garden Inn Baton Rouge Airport - Description
Hilton Garden Inn Baton Rouge Airport. Hotel "Hilton Garden Inn Baton Rouge Airport" has acquired 3 stars. It is an ideal pied-a-terre from which you can discover Howell. The hotel is near the airport. The total number of rooms featured is 131. Inside, it is never too warm thanks to the relieving air conditioning. You will appreciate the outdoor swimming pool. For guests who appreciate sports, the residence offers possibilities, like golf and bowling. Furthermore, "Hilton Garden Inn Baton Rouge Airport" boasts a running track and gym where you can get in some training by yourself. After a busy day, a visit to the onsite spa will help you feel reborn. Cleanse yourself in the jacuzzi. Visitors can dine at the onsite restaurant. For a drink after dinner, feel free to visit the lounge bar. To add to your stay, there is breakfast in the morning. Access to the Internet is available free of charge and there is a shuttle bus service to make you more mobile.

The Hilton Garden Inn Baton Rouge Airport hotel is located in the vicinity of lots of great things to do in Baton Rouge. Whether guests enjoy shopping or visiting historic locations within the Southern Louisiana area, there are many choices that are all within a short drive of our Baton Rouge ho...
Just 5 miles from Baton Rouge City Center on Interstate I-110. Exit #6 at Baton Rouge Metro Airport-Ryan Field (BTR) on Harding Blvd. at Howell Place Blvd. Near State Capital Building, Historic Government District, Convention Center, Riverboat Casino's, Southern University, Scenic Highway Oil Re...
The Hilton Garden Inn Baton Rouge Airport hotel is located only minutes away from the Baton Rouge Metropolitan Airport-Ryan Field and only 2 miles from Southern University. The downtown area including the State Capitol Building - the Baton Rouge River Center - the Historic Government District - a...
THE HILTON GARDEN INN BATON ROUGE AIRPORT HOTEL IS LOCATED IN THE VICINITY OF LOTS OF GREAT THINGS TO DO IN BATON ROUGE. WHETHER GUESTS ENJOY SHOPPING OR VISITING HISTORIC LOCATIONS WITHIN THE SOUTHERN LOUISIANA AREA THERE ARE MANY CHOICES THAT ARE ALL WITHIN A SHORT DRIVE OF OUR BATON ROUGE HO...
Providing free shuttle service to Louisiana Baton Rouge Airport and local area sites, this hotel features an on-site restaurant and modern in-room amenities, including microwaves and refrigerators.
Read more on the website
Hilton Garden Inn Baton Rouge Airport type(s): Family ,Budget
This hotel belongs to: Hilton Hotels™
Hilton Garden Inn Baton Rouge Airport facilities and services
Parking:
Free Parking(find others hotels with Parking in Baton Rouge)
Internet Access:
High speed Internet , Wireless internet access(find others hotels with Internet Access in Baton Rouge)
General
Conference Facilities
Family Rooms
Health Club
Dataport
Disabled rooms
Interior corridors
High speed wireless
Elevator
Safe
Non smoking
Front Desk 24hr
Heating
Activities
Near Golf Course
Sport facilities
Outdoor Pool
Jacuzzi
Services
Kitchenette
Laundry services
Dry Cleaning
Meeting amenities
Meeting rooms
Souvenirs
Meeting center
Car Rentals
Fax / Photocopying
Airport Connection
Business Center
Room Service
Activities nearby
Amusement park

4.8 mi

Dixie Landin' Family Theme Park :

Market and shopping area

5.8 mi

The Mall at Cortana:

Other maritime landscape

7 mi

Port Allen Canal Lock:

Spa and swimming pools

5.3 mi

Louisiana Sports Fitness Center:

6.6 mi

Bumble Lane:

6.8 mi

Avallon Salon & Day Spa:

4.8 mi

Bodi FX:

7.8 mi

Paris Parker:

Zoo

Casino

4.6 mi

Hollywood Casino - Baton Rouge:

5.7 mi

Belle of Baton Rouge Casino:

Golf and other sports

5.9 mi

Webb Memorial Golf Club:

3.5 mi

Greenwood Golf Club:

3.8 mi

Dumas Park Golf Course:

5.8 mi

Webb Park Golf Course:

7.9 mi

Riverlands Golf Country Club:

Harbor and marina

5.7 mi

Argosy Casino:

4.6 mi

Casino Rouge:

6.1 mi

Baton Rouge:

Stadium

7.7 mi

Tiger Stadium - Baton Rouge:

7.5 mi

Pete Maravich Assembly Center:

7.7 mi

Alex Box Stadium:

7.3 mi

Tiger Park:

Museum

5 mi

Baker Heritage Museum:

4.7 mi

BREC's Baton Rouge Zoo:

6.7 mi

Magnolia Mound Plantation:

5.6 mi

Louisiana Art and Science Museum:

4.8 mi

Old Arsenal Powder Magazine Museum:

5.6 mi

USS KIDD DD-661 and Nautical Center:

5.4 mi

Old State Capitol Center for Political and Governmental History: