« Back
Senator Barcelona Spa Hotel
Cardenal Reig, 11, 08028 Barcelona, Spain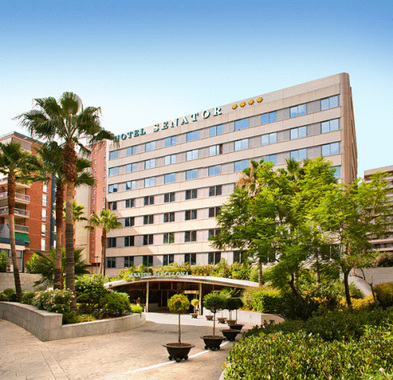 Senator Barcelona Spa Hotel - Description
The Senator Barcelona Spa Hotel is easily accessible, only five minutes from the Sants train station and 15 minutes from El Prat airport Nearby, discover the impressive Plaza de España, as well as the fountains and waterfalls of Palau Nacional, a superb, neoclassical-style building perched atop Montjuïc Hill. The city's excellent public transport system will take you to Las Ramblas, the Sagrada Familia or even to the beach, all in the blink of an eye.
Everything in the hotel has been designed to guarantee you a most pleasant stay. The 213 rooms are comfortable and completely soundproof. All are equipped with satellite television, Hi-Fi channels, and a safe. The Spa Acquaplaya offers relaxation and pampering with its Turkish baths and relaxation rooms. Check out the roof-top surprise: a fantastic outdoor swimming pool with a breathtaking panoramic view.
A large, modernist building featuring metallic construction, the Senator Barcelona Spa Hotel offers tranquility and comfort, just a few steps from the famous Avenida Diagonal, one of Barcelona's main arteries. Settle in and relax, enjoying a ride in the hotel's impressive, panoramic elevators and a beautiful view of the city, or lingering over an apéritif in the lobby piano bar.

Set in a prime location of Barcelona, Senator Barcelona Spa Hotel puts everything the city has to offer just outside your doorstep. The hotel offers a high standard of service and amenities to suit the individual needs of all travelers. Car park, Wi-Fi in public areas, disabled facilities, coffee...
Discover all that Barcelona has to offer with Spa Senator Barcelona as a base. All hotel's guestrooms have all the conveniences expected in a hotel in its class to suit guests' utmost comforts. This Barcelona accommodation contains all of the facilities and conveniences you would expect from a ho...
The Senator Barcelona Spa, housed in a building built in 2001, is a 4-star hotel in Barcelona, with an excellent position not far from the Camp Nou, Barcelona's football pitch. The hotel is the perfect venue both for business people and tourists alike because it offers a wide array of services an...
Senator Barcelona Spa Hotel type(s): Budget ,Luxury
This hotel belongs to: Playa Senator™
Senator Barcelona Spa Hotel facilities and services
Parking:
Pay Parking , Private parking , Valet Parking(find others hotels with Parking in Barcelona)
Internet Access:
Free WiFi , Internet Access , Wireless internet access(find others hotels with Internet Access in Barcelona)
General
Minibar
Bathtub
Television
Fax
Radio
Fan
Terrace
Satellite Television
Groups welcome
Lift/elevator
Meals for groups
Multilingual staff
Activities
City tour
Hydrotherapy shower
Panoramic lift/elevator
Reading room
Solarium
City tours
Massage
Steam Room
Sport facilities
Sauna
Gym / Fitness center
Indoor Pool
Outdoor Pool
Jacuzzi
Spa & Health Center
Turkish/Steam Bath
Services
Tea and Coffee facilities
Hairdryer
Ironing
Desk
Ironing Facilities
CD
Slippers
Banqueting service
City guide
City maps
Interpreting service
Limousine service
Location
Downtown
Near Highway
Near Airport
Near Train Station
University
Near Exhibition Center
Near Subway
Customer reviews
Anonymous
Great hotel and a magnificent location for the Nou camp if you are going to see FC Barcelona play. A little distance fron the city centre, but that should not put you off.
Traveler's rating :
Paula
+
- The hotel should have lost its 4 stars long long time ago (from lobby to the hotel rooms, bathrooms in particular, spa, breakfast,and the list goes on and on) On top of that, customer care does notRead more exist at all. Consecutive Mistakes (missing towells and shower gel after day 2, 3, 4, 5, key card had to be renovated at reception every day,...awfull experience!!Hide
Traveler's rating :
Ian
+ Room was excellent but thought hotel was hid away and views were terrible.
- free mini bar consisted of 2 bottles of beer!!!! Very poor. Have warned others on review sites.
Traveler's rating :
Anonymous
+ Very Near to Camp Nou
-
Traveler's rating :
John
+ I enjoyed the spa and sauna area
- Bar staff - particularly rauol was not friendly - concierge davide was
Traveler's rating :
Anonymous
+ Location was convenient - just down the road from FC Barcelona - which means there are lots of transport links to other parts of the city for sightseeing, etc.
- The decor needs attention, particularlyRead more in the rooms as it is becoming 'tatty around the edges'Hide
Traveler's rating :
Anonymous
+ Free mini bar
- I think the rates for the internet connection are much too high. I have stayed at many hotels, with free LAN access and even free wireless LAN access. I have never payed 19 euros for 24 hours access.
Traveler's rating :
Anonymous
+ rooms were great
- bar staff serice and food very poor
Traveler's rating :
Scott
+
- taxi service was slow and unreliable - reception could have taken more responsibility and been more proactive.
Traveler's rating :
Anonymous
+ It is close to the Camp Nou
-
Traveler's rating :
Activities nearby
Hospital

1,367 yd

CAP Bobila:

402 yd

CAP Collblanc :

1,334 yd

CAP Les Corts :

Railroad station

1,221 yd

Palau reial:

833 yd

Pubilla cases:

1,010 yd

Torrassa:

Library

585 yd

Biblioteca :

1,032 yd

Biblioteca Josep Janes :

994 yd

Biblioteca La Bobila :

1,298 yd

Biblioteca Tecla Sala :

1,237 yd

Biblioteca La Bobila :

1,055 yd

Biblioteca La Florida :

785 yd

Biblioteca Josep Janes :

Metro station

1,128 yd

Palau Reial:

1,152 yd

Badal:

1,025 yd

Torrassa:

1,129 yd

Florida:

815 yd

Pubilla Cases:

407 yd

Collblanc:

941 yd

Zona Universitaria:

Stadium

683 yd

Palau Blaugrana:

950 yd

Camp Nou:

861 yd

David Lloyd Club Turó:

513 yd

Miniestadi:

Museum

683 yd

Museu Del Futbol Club Barcelona:

935 yd

FC Barcelona Museum:

Spa and swimming pools

1,236 yd

Poliesportiu de Les Planes:

212 yd

Poliesportiu Fum d'Estampa:

900 yd

Chi Spa at Club Turo - David Lloyd:

362 yd

L'Hospitalet Nord: