« Back
Landhotel Mordlau
Mordlau 2, 95138 Bad Steben, Germany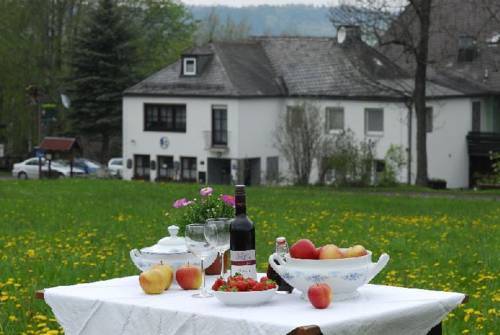 Landhotel Mordlau - Description
Landhotel Cafe Mordlau. "Landhotel Cafe Mordlau" is a hotel that has obtained 3 stars. It is an excellent base from which visitors can explore Bad Steben. "Landhotel Cafe Mordlau" has a total capacity of 11 rooms. Thanks to the relieving air conditioning, the interior temperature is never too high. Small children can play safely in the private garden. At this accommodation, you can take part in horse riding. There are also bikes for rent so that you can explore the neighbourhood. After your busy activities, the onsite spa will help you feel reborn. The accommodation includes a restaurant to serve you dinner and breakfast. In the evening, visitors can have a drink at the lounge bar. Staying in touch with the rest of the world is made easy with free Internet access.

Discover all that Bad Steben has to offer with Landhotel Mordlau as a base.All hotel's guestrooms have all the conveniences expected in a hotel in its class to suit guests' utmost comforts.Each guestroom is fully equipped with bathtub, shower, television, non smoking rooms.To suit guests' conveni...
Set in the green outskirts of Spa Town Bad Steben, the Hotel Landhotel Café Mordlau boasts an ideal location for nature lovers looking for a holiday accommodation in the very heart of the Franconian Forest, nicknamed Bavaria's green crown. The Landhotel Café Mordlau is located a short drive from ...
Tranquilly situated in the Bavarian spa town of Bad Steben, in the Franconian Forest nature park, this traditional 3-star hotel offers cosy rooms, Franconian cuisine and a perfectly relaxing environment.
Read more on the website
Business hours of reception: from 07:00 a.m. till 7:00 p.m. Hotel Landhotel-Cafe Mordlau is situated very close to the resort Bad Steben full of tradition and offering plenty of wellness facilities as well as the new spa centre with an extensive sauna area. Our hotel offers 15 comfort single an...
Landhotel Mordlau type(s): Budget
Landhotel Mordlau facilities and services
Parking:
Pay Parking , Free Parking(find others hotels with Parking in Bad Steben)
Dog / Cat friendly:
Pets Welcomed(find others hotels with Dog / Cat friendly in Bad Steben)
Internet Access:
Internet Access , Wireless internet access(find others hotels with Internet Access in Bad Steben)
General
Shower
Bathtub
Television
Balcony
Garden
Terrace
Garage
Tourist information
Business services
Safe
Soundproofed Rooms
Pets allowed
Activities
Fishing
Casino
City tours
Library
Cycling
Walking
BBQ Available
Horseback Riding
Services
Laundry services
Ironing Services
Fully equipped business center
Packed Lunches
Tourism Desk
Fax / Photocopying
Airport Connection
Room Service
Location
Forest
Countryside
Mountains
Outstanding views
Activities nearby
Casino

1,729 yd

Bayerische Spielbank Bad Steben:

Amusement park

9.8 mi

Märchenwald Saalburg:

Golf and other sports

13 mi

Tauchsportverein Delphin Hof e.V. :

Spa and swimming pools

6.2 mi

Hallenbad - Schwarzenbach am Wald:

6 mi

Hallenbad Selbitz:

10.2 mi

Wellenhallenbad - Aquawell:

Railroad station

3 mi

Marxgrün Bahnhof:

7.7 mi

Wurzbach (Thür) Bahnhof:

12.3 mi

Hof-Neuhof Bahnhof:

13.1 mi

Feilitzsch Bahnhof:

4 mi

Harra Nord Bahnhof:

7.5 mi

Rothenbürg Bahnhof:

4.6 mi

Naila Bahnhof:

10.8 mi

Helmbrechts Bahnhof:

3.3 mi

Blankenstein (Saale) Bahnhof:

3.9 mi

Harra Bahnhof:

8.2 mi

Stegenwaldhaus Bahnhof:

10.9 mi

Lichtentanne (Thür) Bahnhof:

5.1 mi

Unterlemnitz Bahnhof:

5.1 mi

Lobenstein (Thür) Bahnhof:

1,374 yd

Bad Steben Bahnhof:

12.6 mi

Förtschendorf Bahnhof:

10 mi

Köditz Bahnhof:

9.5 mi

Zschachenmühle Bahnhof:

6.4 mi

Selbitz Bahnhof:

3.8 mi

Oberklingensporn Bahnhof:

12.1 mi

Steinbach a Wald Bahnhof:

12.2 mi

Hildbrandsgrün Bahnhof:

11.3 mi

Wüstenselbitz Bahnhof:

Theatre and opera