« Back
Apparthotel Bad Endorf
Breitensteinstr. 29, 83093 Bad Endorf, Germany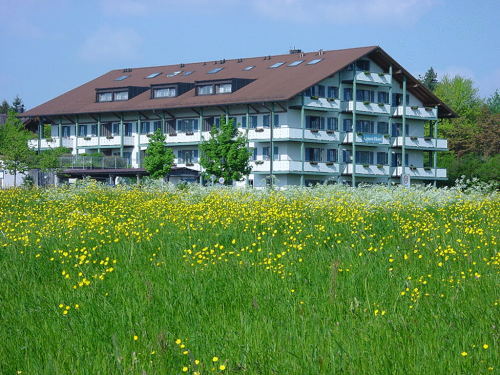 Apparthotel Bad Endorf - Description
If you absolutely need to keep track of your email, there is Internet access available free of charge.

Discover all that Bad Endorf has to offer with Apparthotel Bad Endorf as a base.Each guestroom has non smoking rooms, bathrobes, desk, hair dryer, television, shower, mini bar, kitchenette.Guests staying at this Bad Endorf accommodation can enjoy a wide range of hotel facilities such as shops, el...
This 3-star apartment hotel enjoys a quiet location in the Bavarian spa resort of Bad Endorf. It offers spa and beauty treatments, and fully equipped apartments with a panoramic terrace.
Read more on the website
Apparthotel Bad Endorf type(s): Budget
Apparthotel Bad Endorf facilities and services
Parking:
Free Parking(find others hotels with Parking in Bad Endorf)
General
Garden
Terrace
Elevator
Fast Check-in/out
Non smoking
Non-refundable surcharge for pets
Heating
Fully Non Smoking
On-site parking
Activities
Fishing
Skiing
Fitness Center in the hotel
Hiking trail
Massage
Table Tennis
Sport facilities
Horseback Riding
Sauna
Gym / Fitness center
Jacuzzi
Services
Laundry services
Breakfast Room Service
Ironing Services
Bicycle Rental
Car Rentals
Fax / Photocopying
Room Service
Activities nearby
Beach and coastal area

3.9 mi

Simssee / Pietzing :

8.9 mi

Chiemsee / Feldwies :

School and university

9 mi

Rosenheim University of Applied Sciences:

Golf and other sports

5.1 mi

Chiemsee Golf Club Prien:

6.3 mi

Golfanlage Patting Hochriesblick:

9.7 mi

Der Golf Club Am Obinger See:

8.5 mi

Rapunzel's Tauchertruhe :

11.1 mi

Coolwaterdivers :

7.8 mi

bubble-dive e.V. :

10.2 mi

Tauchsport bluesub GmbH :

3 mi

Tauchschule Chiemgau :

11.4 mi

Rosenheim-Dolphins.e.V. :

4.8 mi

Golf Club Hoslwang Im Chiemgau:

Spa and swimming pools

8.1 mi

Hallen-Ozon-Sport-Bad / Hallenbad Bernau:

8.7 mi

Hans-Klepper-Hallenbad:

2.7 mi

Hallenbad - Rimsting:

10.7 mi

Bade-, Sport- und Freizeitzentrum der Stadtwerke Wasserburg (BADRIA):

4.3 mi

Prienavera Erlebnisbad:

Railroad station

6.6 mi

Umrathshausen Ort Bahnhof:

5.8 mi

Umrathshausen Bahnhof Bahnhof:

4.8 mi

Urschalling Bahnhof:

6.9 mi

Bernau a. Chiemsee Bahnhof:

8.6 mi

Aschau (Chiemgau) Bahnhof:

8.9 mi

Rosenheim Bahnhof:

10 mi

Großkarolinenfeld Bahnhof:

11.5 mi

Kolbermoor Bahnhof:

11.5 mi

Raubling Bahnhof:

1,057 yd

Bad Endorf (Oberbay) Bahnhof:

10.7 mi

Pfraundorf (Inn) Bahnhof:

3.9 mi

Prien am Chiemsee Bahnhof: