« Back
Oakwood Manor Motor Lodge
610 Massey Road, 1010 Auckland, New Zealand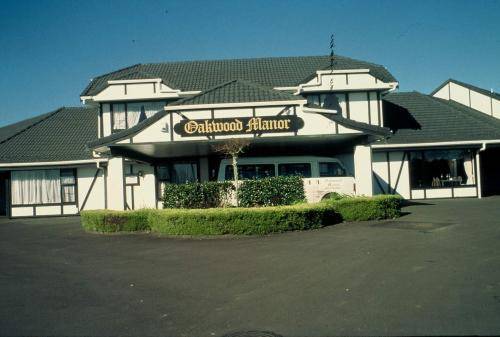 Oakwood Manor Motor Lodge - Description
Oakwood Manor Motor Lodge. "Oakwood Manor Motor Lodge" is a 3-star hotel. The hotel is a perfect base from which you can explore Auckland. The hotel can be reached easily from the airport nearby. A total of 55 comfortable bedrooms is featured. You will appreciate the comfort of the soundproof rooms. Inside, it is never too warm thanks to the relieving air conditioning. The rooms offer a view overlooking a patio. Get some fresh air in the private patio. Feel free to take a swim in the outdoor pool. By taking part in golf you have the opportunity to make your stay a more active one. After a busy day, visitors have the opportunity to relax in the onsite spa. Take a bath in the jacuzzi. The onsite restaurant serves a tasty dinner. A lounge bar is open for visitors to have a drink before or after dinner. In the morning, breakfast is available. The residence provides you with Internet access and a shuttle service which can take you to and from the airport.

Oakwood Manor Hotel is conveniently located in the popular Auckland Airport area. Offering a variety of facilities and services, the hotel provides all you need for a good night's sleep. To be found at the hotel are safety deposit boxes, restaurant, laundry service/dry cleaning, meeting facilitie...
Ideally situated close to Auckland Airport offering 24 hour courtesy coach to and from Auckland Airport. The freephone service for the shuttle is located at both the domestic and international Air New Zealand (On request). Additional facilities include outdoor swimming pool and hot tub pool area...
If you are looking for a Motor Inn near Auckland Golf courses or accommodation close to a New Zealand vineyard, the Oakwood Manor Motor Inn is perfect spot. It is an ultimate place for guests travelling on business or leisure trips. Location: Oakwood Manor Motor Inn Auckland is located in Mang...
Located 5 minutes from Auckland International Airport and offering a free 24-hour airport shuttle service, Oakwood Manor Motor Lodge offers comfortable rooms with kitchenette and satellite TV. Free c
Read more on the website
Oakwood Manor Motor Lodge type(s): Budget
This hotel belongs to: Oakwood™
Oakwood Manor Motor Lodge facilities and services
Parking:
Parking(find others hotels with Parking in Auckland)
Internet Access:
Internet Access(find others hotels with Internet Access in Auckland)
General
Accessible Facilities
Lounges and bars
Safe
Restaurant
Bar
Activities
Sauna
Outdoor Pool
Spa & Health Center
Services
Child Minding Services
Laundry services
Currency Exchange
Business Center
Room Service