« Back
ibis Amsterdam Centre
Stationsplein 49, 1012 AB Amsterdam, Netherlands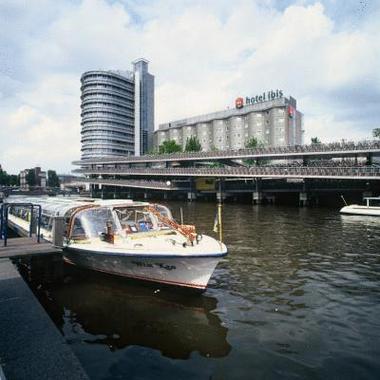 ibis Amsterdam Centre - Description
Ibis Amsterdam Centre. "Ibis Amsterdam Centre" is a 3-star hotel. This hotel is situated in Amsterdam. This residence has a capacity of 363 rooms. Inside, you will always find a pleasant bedroom temperature thanks to the relieving air conditioning. This accommodation includes a restaurant. After dinner, you can enjoy a drink at the lounge bar. To add to your stay, there is breakfast available. For those who absolutely need to keep an eye on their email, there is free Internet access available.

Ibis Amsterdam Centre is situated by the main train station. Trains, metros, buses, trams and taxis all drop you right to the door. Schiphol airport is just 15 minutes away by train, the RAI center just 20 mins by tram and the ARENA 15 mins by metro. Other destinations such as the PTA cruise term...
Read more on the website
ibis Amsterdam Centre type(s): Family ,Design ,Romantic ,Budget
This hotel belongs to: IBIS™
ibis Amsterdam Centre facilities and services
Parking:
Parking(find others hotels with Parking in Amsterdam)
Internet Access:
Internet Access(find others hotels with Internet Access in Amsterdam)
General
Television
Satellite Television
Elevator
Safe
Non-refundable surcharge for pets
Gay Friendly
Air conditioning
Non Smoking Rooms
Cable television
Restaurant
Wheelchair accessible
Bar
Services
Laundry services
Dry Cleaning
Audiovisual Equipment
Fax / Photocopying
Customer reviews
Anonymous
+ It's 100% non-smoking -- fabulous!!
- The rooms are tiny & the bathroom is similar to one in a motorhome (ok,
Traveler's rating :
Thomas
+ Though the room was small it was clean and reguarly serviced.
- Can't say nothing bad.
Traveler's rating :
Selene
+ Location close to central station
- The hotel room is very very small for the amount of per night stay is outrage there is alot of small hotel in the same area and cost less money.
Traveler's rating :
Antti
+ Sijainti
- Kylpyhuone hirveä!
Traveler's rating :
Anonymous
+ Free Breakfast
- very basic amenity; not helpful for international travellers
Traveler's rating :
Jan
+ Close to Central station
- Hotel is under reconstruction and price quite high
Traveler's rating :
Andrew
+ Location is very convenient. Rooms are clean and comfortable
- Current work to extend the hotel has closed the restaurent. As a consequence breakfast was served from take away points in the lift lobbiesRead more on each floor. This was OK but it would have been nice to have been warned about this beforehand. Aircon was poor and the room overwarmHide
Traveler's rating :
Anonymous
+ Location was very good, clean hotel and friendly staff
- the hotel is over priced for standard
Traveler's rating :
Amber
+ Non smoking rooms, 24 hour pizzas
- Tiny bathrooms
Traveler's rating :
Alex
+ Very little.
- Huge building activity. Tiny rooms. No restaurant. No business facilities.
Traveler's rating :
Activities nearby
Landmark

447 yd

The Red Light District:

UNESCO World Heritage site

668 yd

Defence Line of Amsterdam:

Market and shopping area

460 yd

Himalaya New Age Shop:

Building and administration

Railroad station

423 yd

Amsterdam Central Station:

Religious site

615 yd

Oude Kerk :

620 yd

Old Church:

652 yd

The Fo Guang Shan He Huab Temple :

Casino

658 yd

Krijco Arcades Amsterdam:

leisure

367 yd

The narrow boat of cates:

255 yd

VIP Watertaxi:

454 yd

Yellow Bike:

241 yd

Internet City:

restaurant

632 yd

Open:

579 yd

Geisha:

nightlife

377 yd

In 't Aepjen:

299 yd

The Doors:

Monument

315 yd

The smallest house in the world:

470 yd

The Tower of Tears:

Harbor and marina

547 yd

Sixhaven Watersport, Dock and Shipbuilding:

Museum

336 yd

Museum Amsterdam Torture:

498 yd

Museum Amstelkring (Our Lord in the Attic):

312 yd

Museum Venustempel:

614 yd

Museum Oude Kerk:

544 yd

Museum Multatuli-Museum:

488 yd

Museum Koffie-En Theemuseum:

326 yd

Museum Sexmuseum Amsterdam:

652 yd

Erotisch Museum:

487 yd

Museum Beurs Van Berlage:

503 yd

Museum Museum Amstelkring: