« Back
Super 8 Amarillo West
2103 Lakeview Drive, TX 79109 ,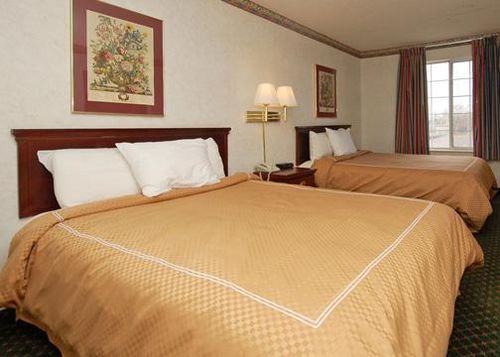 Super 8 Amarillo West - Description
Super 8 Amarillo West. "Super 8 Amarillo West" has received 2 stars. It is an excellent pied-a-terre for discovering Amarillo. The airport is at close proximity. Guests can take a swim since this hotel has a covered swimming pool. For guests who fancy participating in some sporting activities, this accommodation offers tennis. Furthermore, there is a gymnasium where visitors have the option to train. In the morning, guests have the option to have breakfast, which is included in the room's rate. There is free of charge Internet access available.

Business district, Expressway
Welcome to Super 8 Amarillo West. Property amenities include - wired and wireless internet access in all rooms, a heated, indoor pool, alarm clock, coffeemaker, iron/board, hairdryer, microwave, refrigerator and cable TV in all rooms.
Boasting a pleasant ambience and comfortable accommodation, this property is an ideal place for business as well as leisure travellers. Location Located at Interstate 40 and Soncy Road, the Comfort Inn and Suites Amarillo is next to the Westgate Mall as well as few minutes away from the famed Ca...
This Comfort Suites is located approximately five miles from downtown Amarillo and six miles from Amarillo International Airport. It's 15 miles from Palo Duro Canyon. There is a swimming pool on site. In the morning, a complimentary continental breakfast is served. The Comfort Suites also offers...
Super 8 Amarillo West is located in Amarillo, Texas. Adjacent to Western Plaza mall Half a mile from Wolflin Square Hotel Features. Complimentary continental breakfasts heated indoor pool Business center Complimentary wired and wireless Internet access Microwaves and ref...
Super 8 Amarillo West type(s): Family ,Budget ,Luxury
This hotel belongs to: Super 8™
Super 8 Amarillo West facilities and services
Internet Access:
High speed Internet(find others hotels with Internet Access in Amarillo)
General
Continental Breakfast
Conference Facilities
Family Rooms
Meal plan available
Breakfast served in restaurant
Ironing board
Dataport
Interior corridors
Safe
Non smoking
Refrigerator
Sofabed
Activities
Gym / Fitness center
Heated pool
Jacuzzi
Services
Ironing Facilities
Microwave
Laundry services
Dry Cleaning
Local free calls
Meeting rooms
Car Rentals
Fax / Photocopying
Business Center
Activities nearby
Amusement park

3.3 mi

Wonderland Amusement Park :

Stadium

12.5 mi

Kimbrough Memorial Stadium:

Theatre and opera

Spa and swimming pools

1.4 mi

Minka's Garden Skin Care and Boutique:

14.7 mi

West Texas A&M University:

2.6 mi

Body Elegance Salon and Day Spa:

38.4 mi

Hereford Aquatic Center:

Museum

29.6 mi

Armstrong County Museum and Gem Theater:

2.3 mi

Don Harrington Discovery Center:

1.7 mi

Amarillo Museum of Art:

10 mi

English Field Air Space Museum:

14.7 mi

Panhandle-Plains Historical Museum:

2.3 mi

Amarillo Botanical Gardens:

3.8 mi

American Quarter Horse Heritage Center:

35 mi

Lake Meredith National Recreation Area:

Golf and other sports

29.1 mi

Panhandle Country Club:

4.2 mi

Commanche Trail Mun Golf Club:

39.4 mi

John Pitman Municipal Golf Course:

949 yd

Tascosa Country Club:

1.3 mi

Amarillo Country Club:

13.8 mi

Palo Duro Creek Golfing Club:

3.6 mi

La Poloma Golf Club:

5.7 mi

Preston West Par 3 Golf Course:

13.7 mi

Canyon Country Club:

43.4 mi

Tule Lake Golf Course:

40 mi

Panhandle Country Club:

43.3 mi

Phillips Municipal Golf Course:

3.7 mi

Ross Rogers Golf Course:

14 mi

Palo Duro Creek Golf Course:

4.6 mi

Comanche Trail Municipal Golf Course: