« Back
Hotel Plankl
Schlotthamerstraße 4, 84503 Altötting, Germany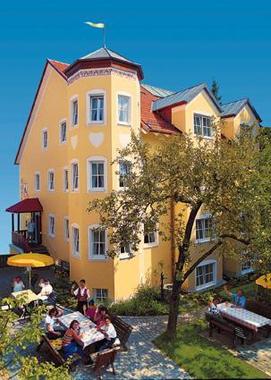 Hotel Plankl - Description
Hotel Plankl. "Hotel Plankl" is a hotel that has acquired 4 stars. The residence is excellent for exploring Altötting. In the accommodation, you can find a spa, perfect for recovering from your busy day. No need to go out searching for dinner as there is an onsite restaurant.

The Hotel Plankl is perfectly located for both business and leisure guests to Altotting.All hotel's guestrooms have all the conveniences expected in a hotel in its class to suit guests' utmost comforts.Room amenities include non smoking rooms, daily newspaper, hair dryer, television, shower, sepa...
This hotel offers themed rooms, a spa with swimming pool and free private parking. It is in the centre of Altötting just 200 metres from the Gnadenkapelle chapel. Each of the rooms at the 4-star Hotel Plankl has been individually furnished.
Read more on the website
Business hours of reception: from 06:00 a.m. to midnight Hotel Plankl is located in Altötting in Upper Bavaria and is some 90 km east of Munich. The Kapellplatz, the centre of the town, is about 2 minutes away from the hotel. We provide 40 business rooms, equipped with shower, toilet, TV, teleph...
Hotel Plankl type(s): Luxury
Hotel Plankl facilities and services
Parking:
Pay Parking , Private parking , Free Parking(find others hotels with Parking in Altötting)
Dog / Cat friendly:
Pets Welcomed(find others hotels with Dog / Cat friendly in Altötting)
Internet Access:
Internet Access , Wireless internet access(find others hotels with Internet Access in Altötting)
General
Breakfast Buffet
Shower
Television
Garden
Terrace
Garage
Continental Breakfast
Disabled rooms
Elevator
Fast Check-in/out
Safe
Soundproofed Rooms
Activities
Hiking trail
Solarium
Library
Cycling
Walking
Steam Room
Sauna
Indoor Pool
Jacuzzi
Turkish/Steam Bath
Services
Hairdryer
Laundry services
Breakfast Room Service
Ironing Services
Bridal Suite
Meeting amenities
Fully equipped business center
Souvenirs
Bicycle Rental
Packed Lunches
Fax / Photocopying
Airport Connection
Location
Downtown
Museum District
Near Highway
Near Train Station
Activities nearby
Railroad station

12.4 mi

Ampfing Bahnhof:

15.2 mi

Weidenbach Bahnhof:

19.9 mi

Schwindegg Bahnhof:

Beach and coastal area

23.4 mi

Vilstalstausee / Weiher :

Amusement park

21.2 mi

Bayern Park:

21.2 mi

Bayern-Park:

Golf and other sports

13.5 mi

Reit Im Winkl:

18.7 mi

Der Golf Club Am Obinger See:

15.8 mi

Rottaler Golf Und Country Club:

16.2 mi

Tauchsport Hausler :

20 mi

Rapunzel's Tauchertruhe :

20.5 mi

Golfclub Vilsbiburg:

12.2 mi

DiveNow - Tauchsport :

23.9 mi

SCUBA Sicherheitstechnik :

23.8 mi

Bella Vista Golfpark Bad Birnbach:

17.1 mi

Golfclub Anthal Waginger See:

9.8 mi

Golfclub Schloss Guttenburg:

11.6 mi

Tauchclub Manta Waldkraiburg e.V. :

5.8 mi

Golfclub Pleiskirchen:

22.4 mi

Tauchcenter Steina :

8.6 mi

Golfclub Altotting Burghausen:

23.8 mi

Golf Club Hoslwang Im Chiemgau:

15.9 mi

Rottaler Golf Country Club:

Spa and swimming pools

1,523 yd

Kreishallenbad Neuötting:

7.2 mi

Karibik-Hallenbad:

23.9 mi

Bade-, Sport- und Freizeitzentrum der Stadtwerke Wasserburg (BADRIA):

18.7 mi

Städtisches Hallenbad - Traunreut:

16.9 mi

Freizeitzentrum Braunau:

8.1 mi

Stadtisches Georg-Miesgang-Hallenbad:

23.6 mi

Hallenbad - Haag: