« Back
Lu Palau De Antoni
Via Porto Torres 14/B, 7041 Alghero, Italy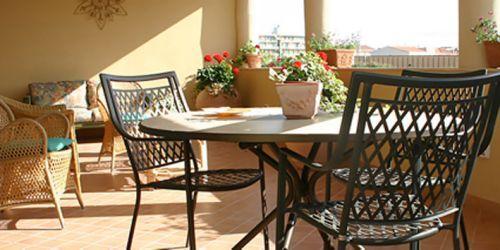 Lu Palau De Antoni - Description
Located north, 4Read more minutes by car distance from the city center, this hotel at Via Porto Torres 14/B is the ideal pied-à-terre to take advantage of all the wonders of Alghero, whether for a few days or for a longer stay.Of a Beach category, the Lu Palau De Antoni has all the comforts such as : Room Service, Non Smoking Rooms, Free Parking, Fast Check-in/out, Fully Non Smoking, Television, Air conditioning.This hotel offers a unique service : near golf course.It is part of the hotel chain T2.High speed internet is available in this hotel.You can reach Fertilia in 15 minutes by car (the airport is 4 miles from the hotel).Practical information:This hotel has a pay parking.

The Lu Palau De Antoni Hotel is perfectly located for both business and leisure guests to Alghero.The Lu Palau De Antoni Hotel boasts a convenient location with modern amenities in every guestroom and superb service.All of the guestrooms are replete with non smoking rooms, air conditioning, balco...
Lu Palau de Antoni is found in the beautiful city of Alghero, a town of Catalan origin on the north west coast of Sardinia. This bed and breakfast accommodation has an excellent location close to the beach and the services of the town centre. Guests have access to lovely rooms equipped with every...
Lu Palau is a historic building near S.Giovanni Beach, 800 metres from Alghero historic centre, a short walk along the seafront. It offers free parking and a sea-view terrace.
Lu Palau De Antoni type(s): Family ,Beach ,Budget
This hotel belongs to: T2™
Lu Palau De Antoni facilities and services
Parking:
Pay Parking , Private parking , Free Parking(find others hotels with Parking in Alghero)
Internet Access:
Free WiFi , Internet Access , Wireless internet access(find others hotels with Internet Access in Alghero)
General
Minibar
Shower
Television
Balcony
Terrace
Family Rooms
Business services
Ironing board
Fast Check-in/out
Bath/shower combined
Soundproofed Rooms
Non smoking
Activities
Near Golf Course
Hiking trail
Windsurfing
Cycling
Canoeing
Walking
Diving
Snorkeling
Services
Tea and Coffee facilities
Hairdryer
Child Minding Services
Shuttle service
Fully equipped business center
Bicycle Rental
Car Rentals
Fax / Photocopying
Room Service
Location
Old Town
Beach
Downtown
Near Airport
Near Train Station
Harbor
University
Activities nearby
School and university

16.4 mi

University of Sassari:

Museum

1 mi

Museum D'arte Sacra Alghero :

16.6 mi

Museum G.a. Sanna Sassari :

18.9 mi

Museum Civico Viddalba :

Theatre and opera

16.6 mi

Ente Concerti Marialisa de Carolis:

Harbor and marina

1,460 yd

Porto di Alghero:

19.2 mi

Port Torres:

19 mi

Marina de Porto Torres:

8.1 mi

Porto Conte Marina:

20.9 mi

Bosa Marina Porto Fluviale:

2.1 mi

Porto Di Fertilia Marina:

21.4 mi

Bosa Marina:

5.8 mi

Cala Tramariglio Marina:

Golf and other sports

1,093 yd

Nautisub :

21.2 mi

Deep Mountain :

57 yd

Adventure Diving :

Railroad station

20.4 mi

Stazione di Sorso:

18.4 mi

Stazione di Porto Torres:

18.8 mi

Stazione di Porto Torres Marittima:

16.3 mi

Stazione di Sassari:

355 yd

Stazione di Alghero Sant'Agostino:

Spa and swimming pools

16.9 mi

Piscine «Lu Fangazzu»:

16.9 mi

Piscine «Latte Dolce»:

Beach and coastal area

9.4 mi

Sardinia / Porto Ferro :

7.1 mi

Sardinia / Mugoni :

21.2 mi

Sardinia / Bosa Marina :

21.2 mi

Sardinia / Platamona Lido :

288 yd

Sardinia / Alghero :

Other maritime landscape

8.3 mi

Capo Caccia Light:

1.1 mi

Isola Della Maddalena Light: