« Back
Boa Vista Hotel & Spa
Rua Samora Barros, nº 20, 8200-178 Albufeira, Portugal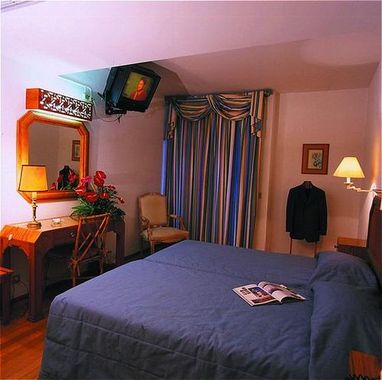 Boa Vista Hotel & Spa - Description
Belver Boa Vista Hotel. 4-star "Belver Boa Vista Hotel" is an excellent base from which you can explore Albufeira. Sea lovers will appreciate the opportunity to spend a day at the nearby seashore. The rooms have been described as bright. Thanks to the relieving air conditioning, it is never too warm inside. You can breathe some fresh air in the intimacy of the garden or take a nice swim in the outdoor pool. At this accommodation, you can participate in mini-golf, parachuting, fishing, helicopter/airplane tours and hunting. For visitors who fancy sporting activities, the accommodation also offers multiple options, like sailing, surfing, tennis, golf, waterskiing, diving, volleyball and horse riding as well as a walking trail, motorboats and a running track, and gym where you have the opportunity to sport by yourself. There are also bicycles for rent. For guests' well-being, there is a spa available, a pleasure after all your daily activities. The wellness area also offers a sauna. In the relaxation center, you can also treat yourself to a massage treatment. You will appreciate the Portuguese and international specialties served at the onsite traditional and classic restaurant. For a drink after dinner, you can visit the lounge bar. Of course, you have access to the Internet and have the option to make use of the airport shuttle service.

Stop at Boa Vista Hotel And Spa to discover the wonders of Albufeira. Both business travelers and tourists can enjoy the hotel's facilities and services. Casino, concierge, bicycle rental, restaurant, meeting facilities are on the list of things guests can enjoy. The well-appointed guestrooms fea...
Dating back 150 years, Hotel Boa Vista is a seven floor hilltop property overlooking the Douro River and the Atlantic Ocean, 800 metres from Albufeira's Old Town. The 85 guestrooms feature modern decor with light wood furnishings and balconies. All include air conditioning, satellite television, ...
The Belver Boa Vista Hotel & Spa is located on the hilltop of the cosmopolitan town of Albufeira, close to the new marina and within a walking distance to the city centre with its various restaurants, bars and nightlife. This beautiful structure presents a lovely swimming pool, with sun terraces ...
The Hotel Boa Vista is located in the famous resort of Albuferia, with rooms and suites with Jacuzzi and it offers the charm of a 60s hotel with all the comforts of the 21st century. Close to the cosmopolitan historic center of the city and new Marina, the Hotel Boa Vista is, however, sufficientl...
Dating back 150 years, Hotel Boa Vista is a seven-floor hilltop property overlooking the Douro River and the Atlantic Ocean, 800 metres from Albufeira's Old Town. The 85 guestrooms feature modern decor with light wood furnishings and balconies. All include air conditioning, satellite television, ...
Boa Vista Hotel & Spa type(s): Beach ,Luxury
This hotel belongs to: Belver Hotels™
Boa Vista Hotel & Spa facilities and services
Parking:
Pay Parking , Parking , Free Parking , Valet Parking(find others hotels with Parking in Albufeira)
Internet Access:
Free WiFi , High speed Internet , Internet Access , Wireless internet access(find others hotels with Internet Access in Albufeira)
General
Breakfast Buffet
Minibar
Shower
Bathtub
Television
Telephone
Fax
Balcony
Radio
Terrace
Bathroom
Satellite Television
Activities
Near Golf Course
City tour
Fishing
Hydrotherapy shower
Music
Pool bar
Reading lounge
Reading room
Spa and fitness center access
Casino
Fitness Center in the hotel
Massage
Karaoke
Windsurfing
Library
Cycling
Canoeing
Bowling
Diving
Steam Room
Sport facilities
Horseback Riding
Sauna
Mini-Golf
Gym / Fitness center
Outdoor Pool
Jacuzzi
Spa & Health Center
Turkish/Steam Bath
Services
Hairdryer
Desk
Banqueting service
City guide
City maps
Coffee shop
Concierge
Medical service
Child Minding Services
Laundry services
Dry Cleaning
Breakfast Room Service
Location
Old Town
Beach umbrellas and deck loungers
Beach
Dining Area
Downtown
Outstanding views
Customer reviews
Richard
+ Traditional older style hotel and very comfortable, just what we wanted.
-
Traveler's rating :
Christopher
+ only stayed for two days so difficult to say. clean, welcoming, friendly staff, good location
- booked a double room and found two single beds which were screwed to the wall so could not push together.Read more Expected double bed. Beds were not comfortableHide
Traveler's rating :
Nathan
+ The location of the hotel was fantastic,Just round the corner was the local supermarket and a ten min walk was all it took to get to the main square where all the restuarants and night life were.
- thereRead more were two things that i didnt enjoy about my stay 1.my bed sheets were not changed within my six day stay 2. i was only able to use the hotel swimming pool on my last three days as there was repair work going on and no water in the pool when i arrived. but i survived not areal issue as the beach is a five minute walk !Hide
Traveler's rating :
Carolyn
+ Ambience, rooms, (we stayed in one of the 5th floor themed rooms - delightful!)
-
Traveler's rating :
Stuart
+ Excellent for the money. Superb.
-
Traveler's rating :
Carol
+
- breakfast could have been organised better!
Traveler's rating :
Noura
+ The staff being friendly and helpful, the location of the hotel
- In the last two days staying at the hotel there was a bad smell in the corridor leading to my room and in in the bathroom
Traveler's rating :
Hendrik Henckens
Musty lounge (no a/c?). Some of the receptionists weren't very friendly and some of the staff weren't very nice either. There were two lifts. One lift was really small. The rooms weren't very clean. The pool was really cold and there weren't enough parasols. (There were eight for the whole complex). The deckchairs were old and were on the verge of falling apart (they need replacing). The view was amazing and it didn't take very long to get into town. It was quite a climb up though. This hotel really doesn't deserve four stars. I would give it three at a push. The cleaners were really noisy and they all started working at 7.00. I didn't like that much because on some days I wanted a bit of a lie in. The breakfast buffet was really extensive and there was fresh fruit, cereal, rolls, toast and spread... The gym was smaller than we had expected. Some people think that is important. The location is great and it's located on top of a hill.
Traveler's rating :
Josje van der Meijde-Gitz en Hans Driehuis
The item 'evaluation of rooms' we graded with a 6/10, not because the room and bathroom weren't good, but because we had a bad bed. The bed (a classic three-quarter bed) is not of this time.Read more Hard mattress and it was also too short.Hide
Traveler's rating :
chantal en david
I really liked the hotel. Friendly personnel and a nice breakfast. The room was a bit dusty though and not very clean. The location of the hotel was good though.
Traveler's rating :
Activities nearby
Casino

15.6 mi

Hotel Algarve Casino:

8.2 mi

Casino de Vilamoura:

Stadium

Beach and coastal area

15.7 mi

Praia Senhora da Rocha :

3.4 mi

Praia dos Salgados :

5.1 mi

Praia Grande de Pera :

7.1 mi

Praia da Rocha Baixinha or Praia dos Tomates :

14.6 mi

Ferragudo :

11.9 mi

Quinta do Lago :

4.9 mi

Vilamoura Beach :

15.7 mi

Ilha de Faro :

Harbor and marina

636 yd

Marina de Albufeira:

7.4 mi

Marina de Vilamoura:

15 mi

Marina de Portimão:

School and university

15.7 mi

Instituto Superior Dom Afonso III:

Spa and swimming pools

13.9 mi

Complexo de Piscinas de Loulé:

11.3 mi

Piscina Municipal - Lagoa:

12.3 mi

Piscina Municipal de Silves:

15.8 mi

Piscinas Municipais de Portimão:

Golf and other sports

6.9 mi

Laguna:

7 mi

Amendoeira Golf Resort:

7.3 mi

Scubatour :

13.9 mi

Quinta Do Lago Golf Club:

13.7 mi

Pinheiros Altos:

5.8 mi

Michael Kals :

10.6 mi

Vale Golf Country Club:

7.9 mi

Oceanico Old Course Vilamoura:

9.1 mi

Vila Sol Golf Club:

11 mi

Vale Do Lobo:

8.1 mi

Oceanico Pinhal Vilamoura: