« Back
Lapland Hotel Ylläskaltio
Sivulantie 7, 95970 ,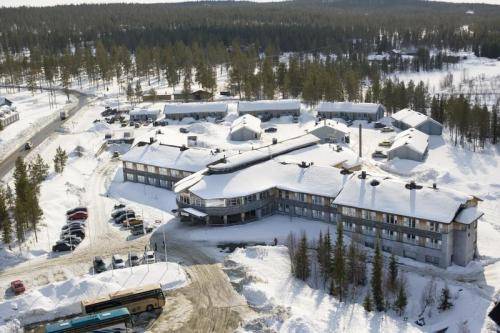 Lapland Hotel Ylläskaltio - Description
Lapland Hotel Ylläskaltio. "Lapland Hotel Ylläskaltio" is a 3-star hotel. The residence is located in Äkäslompolo. The hotel has been furnished in a functional style. The rooms have been described as being comfortable. Guests are offered the opportunity of participating in safari. There is also a more sporting activity available, namely skiing. The facilities also include a gym where visitors have the opportunity to work out by themselves as well as a spa and a sauna. Dinner can be enjoyed in the hotel as there is an onsite restaurant. A bar is open for you to enjoy a drink after a long day.

The Lapland Hotel Yllaskaltio is perfectly located for both business and leisure guests to Akaslompolo.All hotel's guestrooms have all the conveniences expected in a hotel in its class to suit guests' utmost comforts.Each guestroom features amenities such as hair dryer, mini bar, satellite/cable ...
Boasting a beautiful location and offering comfortable accommodation, the Yllas Kaltio Hotel Akaslompolo is an ideal place to spend a relaxing holiday. Location The Yllas Kaltio Hotel is located in the Yllas ski centre village and is just 2 kilometres from the ski slopes. Rooms The hotel offe...
The Lapland Hotel Ylläskaltio provides functional accommodation with the luxury of ski-in and ski-out access, with ski routes and sledding tracks starting right outside the door. Lapland Hotel Ylläsk
Read more on the website
Lapland Hotel Ylläskaltio type(s): Budget
This hotel belongs to: Lapland Hotels™
Lapland Hotel Ylläskaltio facilities and services
Parking:
Parking(find others hotels with Parking in null)
General
Conference Facilities
Accessible Facilities
Business services
Watersports
Safe
Restaurant
Activities nearby
School and university

87.8 mi

University of Lapland:

88.1 mi

Rovaniemi University of Applied Sciences:

Golf and other sports

98.9 mi

Porjus Gk:

87 mi

Arctic Golf Finland:

Spa and swimming pools

87.7 mi

Santa Claus Sports Institute:

90.3 mi

Ylitornion kristillinen opisto:

86.6 mi

Uimahalli Vesihiisi: