« Back
Hotel Merlin Resort
C/El Jable 36 Callao Salvaje, 38670 Adeje, Spain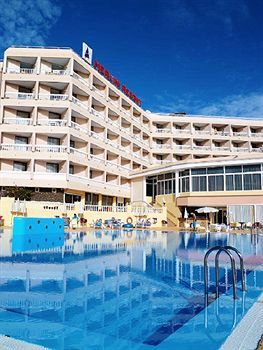 Hotel Merlin Resort - Description
Hotel Merlin Resort. This hotel consists of 130 bedrooms in total. Children can play safely in the private inner courtyard. There is a swimming pool available. The pool is also fit for children.

Hotel Merlin Resort is located in Adeje, S/C De Tenerife, Spain. Hotel Features. Outdoor swimming pool Satellite TV
Located just minutes from the coast, this All-Inclusive hotel has a great outdoor pool and a fun games room with a very social atmosphere – enjoy the buffet restaurant. Soak up the Tenerife sunshine on the poolside terrace and gardens. Cool off in the Merlin Resort's outdoor swimming pool which ...
Read more on the website
Hotel Merlin Resort type(s): Resort ,Budget
Hotel Merlin Resort facilities and services
Parking:
Pay Parking , Free Parking(find others hotels with Parking in Adeje)
Internet Access:
Internet Access , Wireless internet access(find others hotels with Internet Access in Adeje)
General
Garden
Terrace
Elevator
Safe
Front Desk 24hr
Baggage Storage
Non Smoking Rooms
Restaurant
Bar
Activities
Playground
Snooker Table
Table Tennis
Darts
Tennis Court
Outdoor Pool
Services
Child Minding Services
Currency Exchange
Tourism Desk
Activities nearby
Casino

5.4 mi

Casino Playa de las Americas & Gran Tinerife Hotel:

Spa and swimming pools

Zoo

Hospital

Museum

23.6 mi

Casa De Los Balcones:

21.5 mi

Museo Arqueológico Del Puerto De La Cruz:

20.3 mi

Museo Arqueológico De La Gomera:

23.9 mi

Museo De Artesanía Iberoamericana De Tenerife:

16.9 mi

Castillo - Fortaleza De San Miguel:

Golf and other sports

6 mi

Campo De Golf Las Americas:

16 mi

El Medano Dive Centre :

8.8 mi

Campo De Golf Los Palos:

17.5 mi

Buena Vista Golf:

33.1 mi

Real Club De Golf Tenerife:

6 mi

Golf Las Americas:

2.3 mi

Golf Costa Adeje:

12.4 mi

Golf Del Sur:

12.1 mi

Amarilla Golf:

10.2 mi

Golf Del Sur:

25.6 mi

Tecina Golf:

3.5 mi

Tenerife Sun Dive Center :

Beach and coastal area

26.8 mi

Tenerife / Puerto de Gueimar :

16 mi

Tenerife / Flashpoint Beach or Medano Bay :

16.5 mi

Tenerife / Muelle or Harbour Wall :

16.3 mi

Tenerife / El Cabezo :

15.1 mi

Tenerife / La Tejita :

6.1 mi

Tenerife / Las Americas :

16 mi

Tenerife / Pigsbay or El Cementario :

UNESCO World Heritage site

27.8 mi

Garajonay National Park:

12.9 mi

Teide National Park: